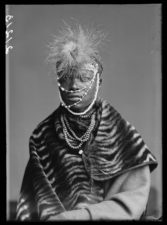 But caught between limits of representational possibilities and the contradiction of colonial representation, here portraiture finds itself in an interesting aporia. That is between an enchanting representation, and the existential reality of knowing oneself as a problem for humanity. This performative contradiction creates problems for the lauded humanizing acts of the photograph as a general conflict in Black Chronicles IV.
Athi Mongezeleli Joja on the travelling exhibition Black Chronicles IV
Wellington Majiza, The African Choir, London 1891. By London Stereoscopic Company.©-Hulton Archive/Getty Images. Courtesy of Hulton Archive and Autograph ABP, London.