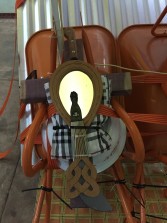 "It becomes dangerous when artists pretend to be socially engaged or are not taking the reality of a community into account and only focus on creating a good artwork. But the most important issue is continuity. If there is no continuation or involvement that contributes to certain goals, than it could cause a lot of damage."
Tirzo Martha reacts on Lih-Lan Wong.
Ex-Surinamer (detail), 2015.