Author:

Rob Perrée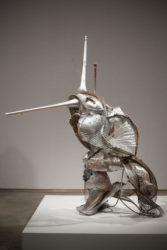 I want to continue using my work to empower, to heal and transform lives and to show how that worked for me and how that could be an aesthetic strategy for helping others. I intend to continue questioning the relationship between Africa and the West: where are we going, what are we doing? I also want to support my community to share what I learned and be an example for people who are marginalized based on identity.
Rob Perrée in conversation with Adejoke Tugbiyele.
The Plea – Stop the Violence, 2018.