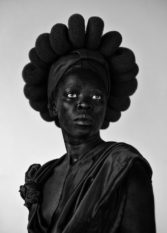 Because she knows all the people she makes portraits of and because she invites some of them more often to pose, watching these photos means looking at intimacy between two people. An intimacy comparable to the intimacy of the photo works of the American Nan Goldin, an artist whose work Zanele Muholi is familiar with. The 'models' feel free to look strong: they want to be seen.
Rob Perrée on exhibition of Zanele Muholi in the Amsterdam Stedelijk Museum.
Zanele Muholi, Ntozakhe II, Parktown, 2016.