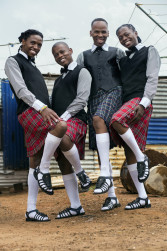 We impose our opinions, our norms and morals onto those others or, even worse, we fight and go to war to basically weep them out or conquer them. Geography, religion, spirituality, traditions, ethnicity, gender, race, sexuality, we human beings have defined many ways to separate ourselves from "the other". Will we ever actually see, respect and value all that includes humanity? Can art be a tool in this struggle?
Sasha Dees on activism in (gay)art
Abakhaphi at Promise & Gift's Wedding II, Daveyton, 2013.