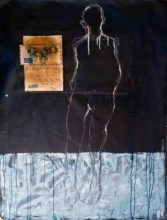 When and how do we address subjects as race and nationality in the global contemporary art context? The Canon should never be cast in stone. The current times call for new definitions and wording that are accepted and intelligible by all working in the arts internationally. Wording that reflects our time, is decolonized, inclusive and self-evident of our global context.
Is contemporary African Art a hype? Sasha Dees 'feeds' the conversation.
Onyis Martin, Untitled, 2016.