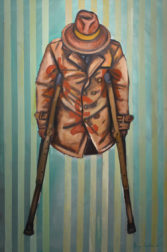 At the crux of Khaya Sineyile's work is an artist who is cultivating an alternative consciousness regarding how artists from his background are perceived, he is an artist seeking to alter the manner in which their works are received. His work is barren of that apologetic sentiment, where the social context of the township is perpetuated to be the quintessential context for cultural, historic and contemporary passivity in relation to the powers that be.
Themba Tsoti on Khaya Sineyile
Crippled Economy, 2017.