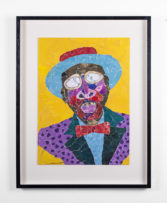 Composition of the Eye is at a certain level a retrospective exhibition, it is also about the two artist careers that has spanned over fifty years combined. It is also about the merging of their discourses, this way both their aesthetic influences and impact can be deemed for their respective achievements. (…) Both their repertoire is or was informed by the techniques that informed Black artists during the apartheid era.
Themba Tsotsi on the work of the South African artists Peter Clarke and Lionel Davis
Lionel Davis, Mask, 2009.