Afi Nayo, Recent Works, October 20 – November 26, 2016, Skoto Gallery, New York
Orange Spiral, 2016.
About:
Skoto Gallery is pleased to present a selection of recent work by the Togolese-born artist Afi Nayo. This is the second solo exhibition by the artist at the gallery. The reception is on Thursday, October 20th, 5-8 pm.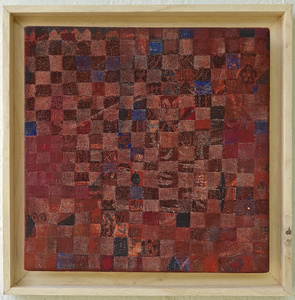 Idole, 2014.
Afi Nayo's recent mixed media work continues to explore themes of spirituality, cultural syncretism and humanity's interconnectedness with nature. She draws upon an individual reserve of personal history with a universal perspective that include all of us, combined with an aesthetic nurtured by intellect, clarity of vision and deep philosophical concerns to create distinctive work which allows the viewer to discover other worlds and distant places that offer freedom of imagination, interpretation and emotional responses. There is no hierarchy of images – the path of visual exploration for each composition is of our own choosing, and the viewer interprets the progression of images as though reading a language system.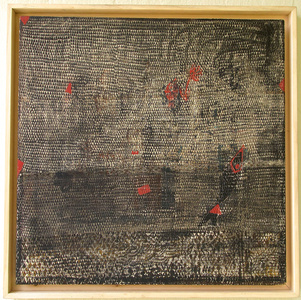 Triangle Noir, 2014.
Her work reflects a longstanding commitment to extracting textured patterns with mosaic-like delicacy and cosmopolitan refinement from a complex language of symbols and signs drawn from the unconscious to obtain a poetic amalgam of abstraction and reality, revealing a reality behind the visible things around us. Symbols become patterns and then symbols again as the imagery vacillates between seen and unseen, between the remembered and the disassociated, revealing minute treasures for those who linger long enough to see them revealed. There is a resonance of personal truth, vision, circumstances, and tradition embedded in this body of work that make us simply believe in the power of art to speak to us in purely human terms.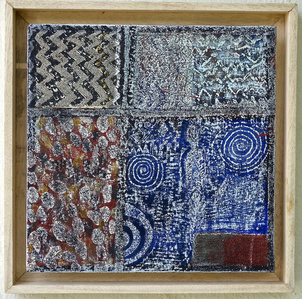 Moissures, 2014.
Afi Nayo was born 1969 in Lome, Togo, West Africa and moved to Paris, France at an early age. After briefly attending the Ecole Nationale Superieure des Beaux-Arts in Paris, she began an active studio practice. Over the last two decades, she has participated in numerous exhibitions in Africa and Europe, including The French Cultural Centre, Lome, Togo; Galerie Vivienne, Paris, Galerie Nathalie Duchayne, Saint Tropez, France and Art Home in Belgium, she participated in the 2013 Dakar Sculpture Symposium and during The 2014 Dakar Biennale had a solo show at Aissa Dione Gallery. She is represented in several public and private collections including the National Museum of African Art, Smithsonian Institution, Washington DC. She presently divides her time between Paris, France and Lome, Togo.