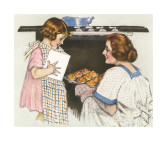 "He makes clear that even the most successful African American men and White Women make good within roles scripted for them by others, in narratives that provide them with few options or real alternatives. Hoop dreams and football fantasies, like suitable marriages, happy households and feminine charms, are constructed ideals, actualized within well-defined social cages, gilded though they may be."
Shelley Rice on Unbranded: A Century of White Women 1915-2015 by Hank Willis Thomas.
No anxious moments, 1918/2015, digital chromogenic print, 2015.