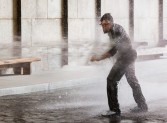 "This is a country that has police who murder its citizens, have the murders caught on video and failed to indict the murderer. This system is illegitimate and any elected official who cannot plainly state that the police who committed the murders should be indicted, convicted and jailed for their crimes is both morally bankrupt and illegitimate."
Dread Scott in an interview with Rob Perrée.
On the impossibility of freedom in a country founded on slavery and genocide, performance, 2014.