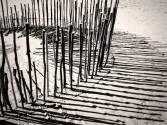 As we have seen through multiple 2015 student protests, where many of us were conscientized through mobilizing around the violence of colonial symbolism, a monument is not simply a representation- it gives strength to the static, it validates regime, and affirms its own position in an attempt to prove timelessness. While the monument still stands, so then does the status quo it holds.
Thuli Gamedze challenges colonial and other monuments.
Detail of a site specific work of Lungiswa Gqunta.