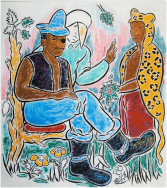 The coloring book and existing fairy tales may be his most important inspiration, but there are more influences. His work is a tribute to folk art because of the imagery, the setting and the absence of nuance. It also refers to the comic book tradition. When you see a presentation of Bankston's work, it reads like a comic strip, it reads like a coherent story with a scene on every page. With one big difference: the viewer has to 'write' his own text.
Rob Perrée on the work of John Bankston
Give and Take, 2006.