Ernie Barnes
Sugar Shack, 1976
About:
Ernie Barnes was born in 1938 in segregated Durham, North Carolina. Encouraged from a young age by his mother to pursue arts and music, Barnes developed a knowledge of art history through books and catalogues, while he was legally barred from entering the museums that held the paintings he admired. Barnes sought refuge in his sketchbooks before pursuing sports late in high school, which would secure him a full athletic scholarship at North Carolina College at Durham (now North Carolina Central University), where he studied art. Football, and painting remained dual passions for Barnes as he joined the NFL, playing for the San Diego Chargers and Denver Broncos.
Barnes painted throughout his career at the NFL, and began giving interviews as an artist as early as 1962. In 1965, Barnes retired from football, proposing to become the league's official painter, after which he would relocate to Los Angeles, and begin painting full time.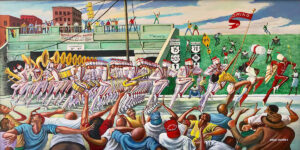 Homecoming
Barnes quickly developed his signature style, which he referred to as "neo-mannerist", marked by elongated, fluid figures set in motion, focusing on scenes of joy in everyday life. By the 1970s, Barnes would rise to national prominence as his works were featured in the television show Good Times. His seminal 1976 painting The Sugar Shack, a version of which is included in the exhibition, was chosen by Marvin Gaye as the cover of his album I Want You, from the same year. Painted from Barnes' memory, the work is richly layered, with its dense composition filled with revelers and dancers exaggerated in their movements and form, creating an exuberant depiction of Black life.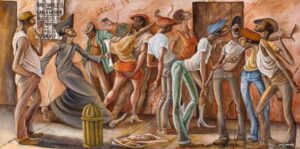 Side Walk Scene with Graduate
In 2020, UTA Artist Space, Los Angeles presented Liberating Humanity from Within, a survey exhibition of Barnes' work. In addition, a retrospective of his work was exhibited at the California African American Museum in 2019, and at the North Carolina Museum of History in 2018-2019. Barnes' work is currently held in the collections of the African American Museum in Philadelphia, California African American Museum, the Pro Football Hall of Fame, BYU Museum of Art, North Carolina Central University Art Museum, the American Sport Art Museum and Archives in Daphne, Alabama, among others.
Copyright: Ernie Barnes Family Trust