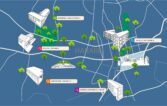 The Rhodes School of Art exclusively teaches Fine Art and not commercial art practice. It's not a problem at all, it just prompted me to ask why that is and there was the subsequent revelation of fine art being regarded as "high art" traditionally and commercial art being reduced down to a skill. There's an obvious art historical problem that has separated the two and given higher value to one over the other and so I sought to create room for where the two could be made distinct without placing greater value on one.
Barnabas Ticha Muvhuti in conversation with Wynona Mutisi
"Harare Map", 2020, Digital Map Illustration, 1550px X 981px.