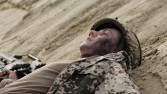 Fast aims to question the way a recollection can be a construction, rather than a fact. It gives him freedom to embrace complex storytelling, and as he interweaves the fantastical with the mundane his movies become confrontational, they question the humanity, or the lack of it, in today's global conflicts.
Machteld Leij on the films of Omer Fast
Continuity (Diptych), 2012-2015.