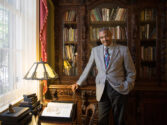 FROM THE ARCHIVE: March 6, 2021:
If this exhibition was held in the USA, I would first want it to include my Frederick Douglass collection, now housed at the Beinecke Library at Yale University and now available digitally online for all the world to read. I also have several slave narratives in my collection which I would like to see included. I have only one item directly related to the Dutch involvement in slavery which I would have liked to have been included in the current Rijksmuseum exhibition: A Sermon, written by Jacobus Elisa Joannes Capitein, written in 1742, an extremely rare item in the original form.
Walter Evans about the slavery exhibition in the Rijksmuseum, Amsterdam.