Author:

Shelley Rice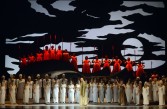 As many of the readers of this magazine know, I am an art critic, not an opera critic – or even an opera fan. My interest in this production was simple: I wanted to see what would happen when a formidable African American concept artist like Kara Walker confronted and re-interpreted a cornerstone of European culture.
Shelley Rice on Kara Walker's stage design, set design and costumes for Bellini's opera Norma as presented in Venice.
Photo Michele Crosera.