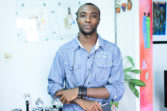 Homosexual men in Nigeria, as far as I can surmise, are constrained to practice double lives. They are men who, for the sake of survival, despite their real desires, that of being in love with fellow men, sometimes have to flirt with women, show facetious attraction to women. This duplicity is similar to facing the camera with one's back; of being shamed by law and morality; shamed to the extent that the camera bears the reflection of something monstrous, not to be seen.
A moving story by Emmanuel Iduma
Portrait of the writer.