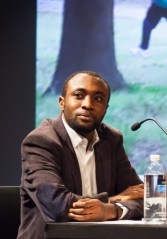 A writer clears his path through incessant questioning—seeking more than anything else an honest evaluation of his position and place in the subject's affairs. Devoid of any irrelevancy and unpretentiousness, a piece of writing will consequently function as honest, and as intimate. Hence there is a sense in which "intimacy" means "clarity."
The Nigerian writer Emmanuel Iduma on the art of writing.
Photo by Jacqueline Iannacone.