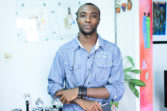 Emmanuel Iduma is a writer of fiction and non-fiction. Born and raised in Nigeria, he has contributed essays and stories to journals, magazines (Africanah.org among others), artists' books, and exhibition catalogues. In 2017, he was associate curator of the Nigerian pavilion at the Venice Biennale.
He is the author, most recently, of A Stranger's Pose. He also published the novel The Sound of Things to Come and Gambit: Newer African Writing.His writing style could be characterized as literary and personal non-fiction.
This article was first published on Africanah.org December 6, 2016.
Portrait of the writer.