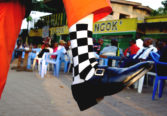 Sandra Maunac and Mónica Santos talk in their essay about THE SAPE, The Society of a curious and flamboyant movement formed principally of youths from the city of Brazzaville, capital of the Republic of the Congo, and also some from Kinshasa, capital of the Democratic Republic of the Congo. The movement, whose birth dates back to the 1920s, at the height of the colonial period, is currently acquiring an unprecedented importance both in the Republic of the Congo and beyond the borders of the African continent itself, becoming an object of imitation, study and exhibition.
A clear perspective of this fascinating movement, rich in both visual and ideological meaning, can be found in the work of Héctor Mediavilla and Baudouin Mouanda.
Baudouin Mouanda, Untitled, 2008.