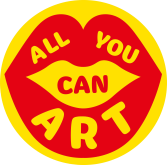 An essay without words. A review without text.
Renzo de Pablo photographed 'ALL YOU CAN ART', a large exhibition in De Kunsthal in Rotterdam to celebrate the 10th anniversary of Instituto Buena Bista (IBB), the pre-academy for young, talented, potential artists on Curacao, founded by the artists David Bade and Tirzo Martha.
Logo ALL YOU CAN ART, 2016.