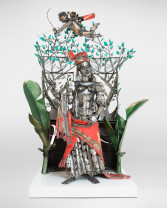 Africanah.org at 5: We celebrate the 5th anniversary of this magazine with the re-publication of a number of remarkable essays or interviews. The last article in this series is on Sokari Douglas Camp, written by Allison Young, first published May 8, 2016.
While the Nigerian-born artist has become renowned for her sculptural adaptations of traditional Kalabari masks, and for her pointed critiques of Western museological displays of African visual culture objects, this exhibition shows the artist, instead, in dialogue with the history of Western art.
Allison Young on the Nigerian artist Sokari Douglas Camp
Blind Love and Grace, 2015.