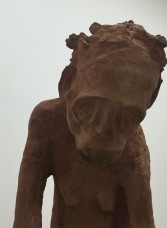 "If one can search beyond that particular veneer, one would find a version of Martens' critique articulated not by the Dutch spokesman, but by the individual creators of the sculptures on view. The most rewarding result of this minimizing of Martens' authorship is that this gesture allows the opening up a whole new view of the works themselves, which have been shown in previous exhibitions but, it seems, never confronted deeply and in their own right."
Allison Young on the Congo project of Renzo Martens.
Thomas Leba, A Poisonous Miracle (detail), 2015.