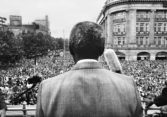 Good Hope is a feeble attempt by the Rijksmuseum to bring better understanding to the 'relationship' between South Africa and the Netherlands. While there is merit in bringing awareness to this narrative, what it fails to do is bring home the message of how the colonized continue to struggle to break free from the shackles of oppression and it excels at continuing to pacify the voices of these people, allowing the Dutch audience to continue living in oblivion or perhaps ignorance.
South African art critics Alfred T.M Rossouw and Phumzile N. Twala on the exhibition Good Hope in Rijksmuseum Amsterdam.
Nelson Mandela, Leidseplein Amsterdam, 1990.