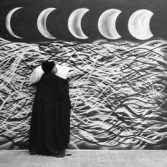 FROM THE ARCHIVE 2: December 10, 2017
Following in the footsteps of their predecessors, this new generation has taken up the social and revolutionary potential of poetry; they have grasped it between two hands, stretched it, pulled it apart, and moulded it back together in their own way, with an array of multi-disciplinary influences from hip-hop, jazz, visual art, film, and performance.
Candice Allison on poetry in South-Africa
Robin Rhode, The Moon is Asleep, 2015. Super 8mm film transferred to digital HD, duration 1 min 50 sec, images courtesy of the artist and Stevenson Gallery.