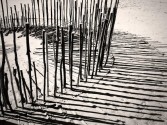 Africanah.org at 5: We celebrate the 5th anniversary of this magazine with the re-publication of a number of remarkable essays. This article of the South African artist and writer Thuli Gamedze was published in April 2015. It talks about the student protests in her country in that year. On a general, even universal level however it talks about the correction of the history by tearing down monuments that were once made to hero-ize a person or an event, but that now can and must be seen as symbols of a malign colonial system.
Thuli Gamedze challenges colonial and other monuments.
Detail of a site specific work of Lungiswa Gqunta.