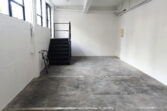 Under Project is primarily an empty room that's publicly visible. After that, it's a lot of programming, and curating, and emailing, and installing, and printing flyers on our end.
But that first point –an empty room for testing out ideas for works and shows– is really important, especially as it becomes increasingly rare in Cape Town.
Misha Krynauw talks with Mitchell Messina about Under Projects.
Under Projects: After renovation, prior to opening