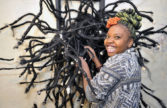 The miracle is, in fact, that, given the overwhelming odds against women, or blacks, so many of both have managed to achieve so much sheer excellence, in the face of violent, selective and shifting definitions of history and art, and in the face of direct suppression, omission, gatekeeping, lack of transparency, and outright unprincipled opportunism of unscrupulous gallerists, and their ilk.
Nkule Mabaso on the position of black female artists.
Nkule Mabaso, portrait.