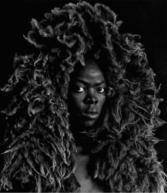 By playing photographer and subject, Muholi keeps the authenticity of both roles and redefines the transaction between those roles. It is true to say that she is both (and neither) the dominant and submissive party. This is the traditional power dynamic examined through the styles she uses.
Christabel Johanson on Zanele Muholi
Somnyama Ngonyama II, Oslo, 2015 © Zanele Muholi. Courtesy of Stevenson, Cape Town/Johannesburg and Yancey Richardson, New York.
First published: June 6, 2021