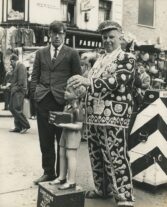 James Barnor's work is remarkable but not just for the lifespan of years recording culture around the world. In Barnor's work you can feel the richness of life behind the portraits.
Christabel Johanson on British-Ghanaian photographer James Barnor
Pearly King Petticoat Lane Market, London 1960s, Courtesy Galerie Clémentine de la Féronnière.