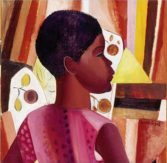 Black Modernism was a development that was finding a home for itself in contemporary white culture. Not only did it stimulate wonderful movements like the Harlem Renaissance, it exposed society to black experience and the shortcomings in black rights. As an artistic expression Black Modernism continues to develop and by doing so creates contemporary expression for a new generation.
Christabel Johanson on Black Modernism
Laser Segall, Perfil de Zulmira, 1928.