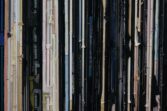 The exhibition discoursed the theme of powerlessness through the stories of a sex worker who became a prophetess, Madzimai Catherine in the Nyenyedzi Nomwe Apostolic Church. Mukwazhi sought to subvert the traditional power relations imposed on women's bodies by patriarchal structures.
Themba Tsotsi on the Zimbabwean artist Kresiah Mukwazhi
Chakatanga ndicho chakachenjedza, 2021, detail.