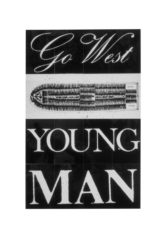 Their aim was to raise the profile of black artists and the Afro-Caribbean community through a series of sculptures, paintings and exhibitions. It was also an eye-opener for contemporary white artists as this political movement encouraged conversations on art reflecting culture and the state of how mainstream art did not include the experiences of the black population.
Chistabel Samuel on the British BLK Art Group
Go West Young Man, poster Keith Piper, 1987.