Omar Ba
Costume pour terroriste, 2018
 About:
Omar Ba (b. Senegal, 1977) has studied both in Senegal (l'Ecole Nationale des Beaux-arts, Senegal, 2002) and in Switzerland (l'Ecole Supérieur des Beaux-arts, Geneva, 2005 and ECAV – MAPS Arts in Public Spheres, 2011). It was in Switzerland around a decade ago that Ba decided to depart from abstract painting and began developing his own distinctive figurative aesthetic.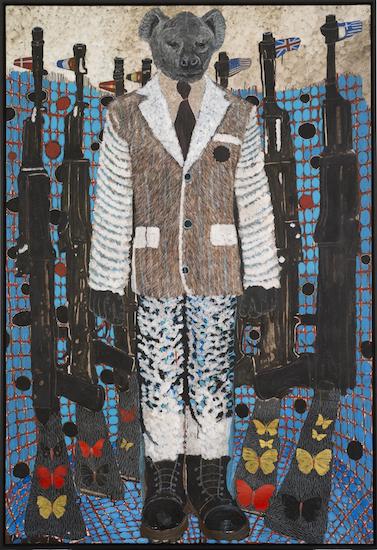 CPI Deux poids deux mesures, 2018
Today Ba lives and works in both Dakar and Geneva, drawing on past memories and present experiences of both cultures to create works both deeply personal and politically resonant; works that, in his words, 'tell the stories and weave a thread between' African and European culture. This notion of duality, whether between North and South, history and contemporaneity, the personal and the political, is central throughout Ba's work. His paintings, in a fusion of figurative and decorative modes, depict part-real, part-imaginary worlds populated with human and animal beings, organic patterns often inspired by traditional Senegalese ornaments, geographic and political symbols such as maps and flags – a dizzying array of earthly life. Their material composition is similarly hybrid, mixing masterful use of oil, gouache and crayon and delicately applied china ink with rough, readymade surfaces such as corrugated cardboard.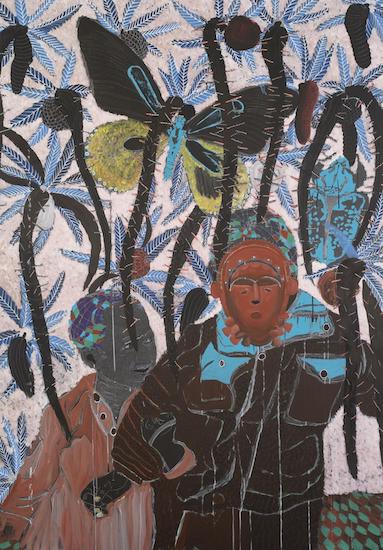 Fruits Masques Insectes, 2018
Many of Ba's images over the past decade have depicted a world of violence and conflict, a potent exploration of the legacies of colonialism on the African continent. Soldiers, political leaders, labourers, skeletons emerge against black painted backdrops, a symbolic depiction of a contemporary 'state of emergency'. More recently, however, Ba has reoriented his focus, seeking to celebrate the beauty and grandeur of the people of Africa, exploring the often forgotten inheritance of today's African diaspora as descendents of the black Pharaohs of Egypt and Nubia.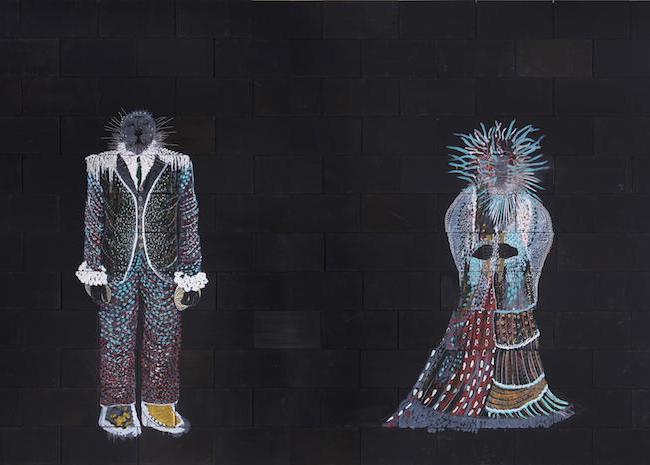 Sans titre, 2016 (mural)
In 2011, Ba received the prestigious Swiss Art Award. Throughout his career, his works have been exhibited widely and internationally at institutions including BOZAR, Brussels (2017); Ferme-Asile, Switzerland (2015); Hales Gallery, London (2014, 2017); Biennale de Dakar, Senegal (2014); Aagauer Kunsthaus, Switzerland (2012) and others. Ba's works can be found in private and public collections, including Credit Suisse (Switzerland), Fonds municipal d'art contemporain de la Ville de Geneve (Switzerland), Fonds municipal d'art contemporain de la Ville de Paris (France), Centre national des arts plastiques (France), Louvre Abu Dhabi (United Arab Emirates) and the Barbier-Mueller Collection (Switzerland) (text Hales Gallery). (courtesy Templon, Paris)