Cake Walk.
About:
 Miguel Covarrubias is best remembered as a celebrity caricaturist. He came to the United States from Mexico at the age of nineteen and was an immediate sensation. In Humanities, Johanna Rizzo writes, "Soon after his arrival in New York in 1923, Miguel Covarrubias was introduced to Carl Van Vechten–novelist, photographer, critic, and general tastemaker–who opened the world of the smart set to the young artist he thought to be a genius…The two lunched at the Algonquin, and after Covarrubias had impressed Dorothy Parker and the other wits of the Round Table gathered there, Van Vechten set up a meeting with Vanity Fair. Covarrubias's work for the magazine made him famous."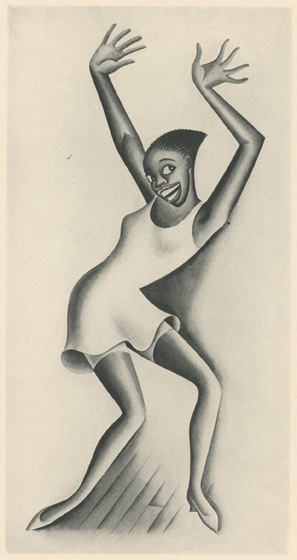 Chorus Girl.
"Through (Carl Van Vechten), Covarrubias became involved with the writers and artists of the Harlem Renaissance, both personally and professionally. He illustrated The Weary Blues for Langston Hughes, who declared that Covarrubias was "the only artist I know whose Negro things have a 'Blues touch about them.'" In 1927…Covarrubias published Negro Drawings, which drew on his observations of Harlem and its residents. The book contained a number of images the artist termed "type sketches" of African Americans of the jazz age…Although exaggeration of form and behavior is one of the hallmarks of caricature, these images seem to be also about dance and movement as racial behaviors. Countee Cullen, for example, wrote: "This young Mexican has an uncanny feeling for the comical essence behind those characters he chooses to portray; he does not choose to portray all, however, apparently finding the most interesting types in the cabarets. He is especially successful in capturing the illusion of motion." Critics of the time celebrated the images for being free of caricature, despite some obvious references to ideas of black rhythm. Covarrubias himself declared, "I don't consider my drawings caricatures. They are – well – they are drawings. A caricature is the exaggerated character of an individual for satirical purpose. These drawings are more from a serious point of view." —source: Enter the New Negroes: Images of Race in American Culture by Martha Jane Nadell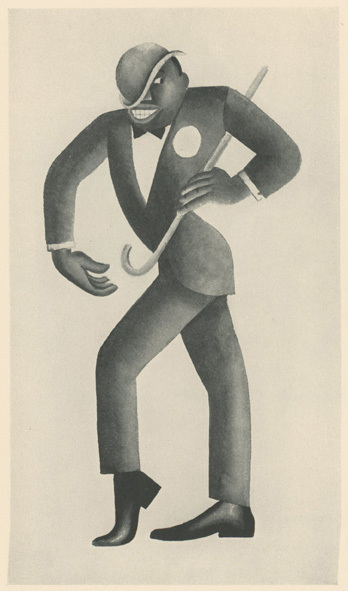 Strut.
At the time, Covarrubias shared a studio with the painter Al Hirschfeld , who later turned to caricature. He reminisced, "Once Miguel became involved with the Harlem Renaissance, he had good reason for never being at the studio. If you wanted him for something important, he could be found uptown attending some performances or sitting in a nightclub busy making hundreds of sketches. Some of these he would later turn into marvelous paintings." —source: Miguel Covarubbias: 4 Miradas/4 Visions, essay 'Miguel Covarubbias and the Emerging Image of Harlem' by Adriana Williams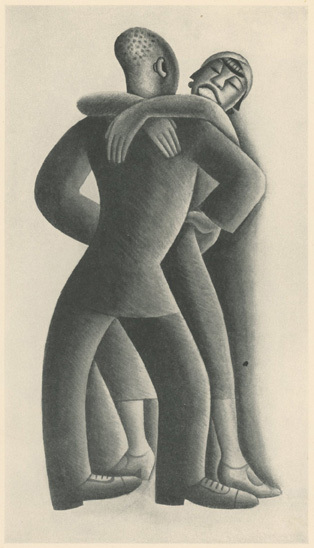 Couple Dancing
"Miguel's contribution to the Harlem Renaissance is justifiably arguable. While he intentionally challenged old stereotypes, he unintentionally begat new ones. Nevertheless, his work is significant for documenting the emergence of the new spirit that rose out of Harlem in the twenties, a spirit that he understood and frankly admired and wanted to learn more about." —source: Covarrubias by Adriana Williams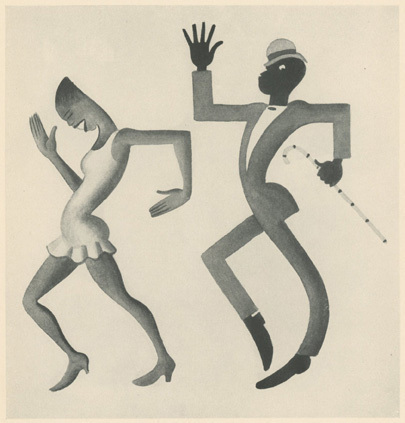 The Stomp
Images selected from "NEGRO DRAWINGS" by Miguel Covarrubias (Alfred A. Knopf 1927) The book consists of fifty-six full-page plates divided into four sections: Varia, The Theatre, The Cabarets, Three Cuban Women.
(text Drawger site/Stephen Kroninger)