Stacy Lynn Waddell
Golden hot Butterfly Queen, 2015
About:
Recognized for her innovative use of fire, branding irons, alchemical processes and gilding, Stacy Lynn Waddell employs symbolism and allegory to dissect and illustrate American culture, history, and her own personal experience.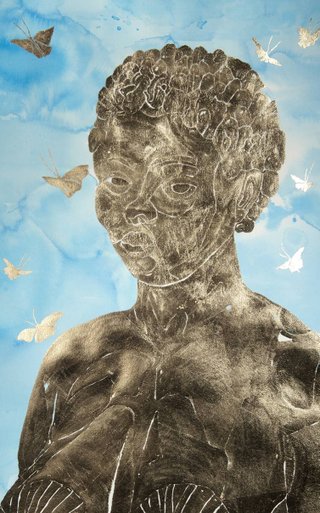 Epitaph for a Darling Lady, 2015.
In this exhibition, which marked a recent shift in her studio practice, Waddell created a visual narrative featuring famed American actress Thelma "Butterfly" McQueen as her protagonist. Waddell said: Regarding the subject of her exhibition, Waddell states, "Sometime back, I discovered a wardrobe still from the set of Gone With The Wind that depicts co-stars Butterfly McQueen and Hattie McDaniel. At first glance, this image doesn't differ much from others of its type, but something about it struck me in a personal regard. In the photograph, Butterfly McQueen stands to the left of her more experienced co-star who dominates the image for several reasons, not the least of which being her unflinchingly direct gaze at the viewer. McQueen's stance, however, presents an altogether different point of view of a young woman looking beyond her present station to contemplate what's ahead. Butterfly McQueen was an iconoclast, but a reluctant one. Despite the prevailing cultural and social force field that dictated much of her lived experience, she persisted in reimagining a life of nuance and free-range possibilities, but the quest for freedom often comes at a cost."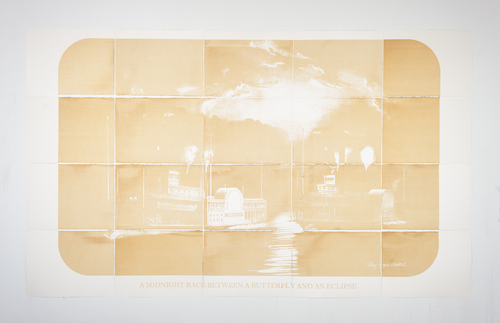 Epitaph for a Darling Lady, 2015.
Waddell's work has been included in exhibitions at the Nasher Museum of Art, Durham, NC; Weatherspoon Art Museum, Greensboro, NC; North Carolina Museum of Art, Raleigh, NC; Pennsylvania Academy of the Fine Arts, Philadelphia, PA; Project Row Houses, Houston, TX; Studio Museum, Harlem, NY; and the Institute of Contemporary Art, Boston, MA, among other venues. Her work is included in several public and private collections, including the Nasher Museum of Art, Weatherspoon Art Museum, North Carolina Museum of Art, Gibbes Museum of Art (Charleston, SC), and The Studio Museum in Harlem. Waddell is a 2010 recipient of the Joan Mitchell Foundation Painters and Sculptors Grant and a 2012 recipient of an Art Matters Grant. She resides in Chapel Hill, NC.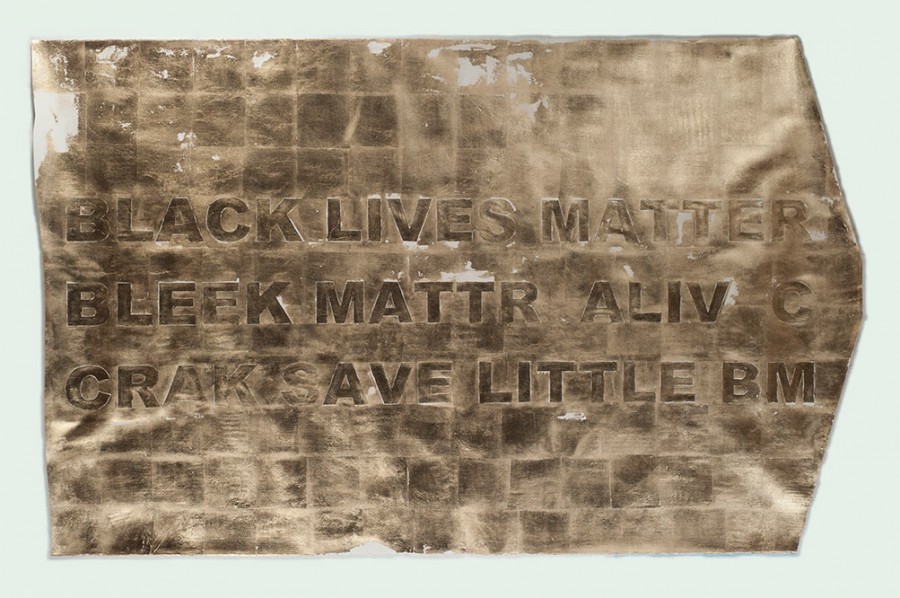 Black Lives Matter Transformation, 2016.
http://www.stacylynnwaddell.com/