Tagne William Njepe: Enfance Volée series, 2021

Tagne William Njepe was born in 1983 in Douala (Cameroon). Growing up in a single-parent household with a sick mother, he was forced to work at an early age and eventually had to leave school early to provide for his family for several years before studying fine arts and print making at the Atelier Viking in Douala.
The loss of childhood plays a key role in Tagne William Njepe's art, particularly his current series Enfance volée ("Stolen Childhood"), which denounces child labor and champions the right to education. Exorcising his own experiences of forced labor, Njepe portrays children doing odd jobs, their everyday reality juxtaposed with the bright colors of the background that visualizes a world of dreams filled with cartoon characters and cheerful peers.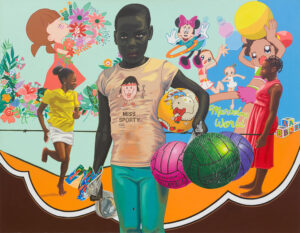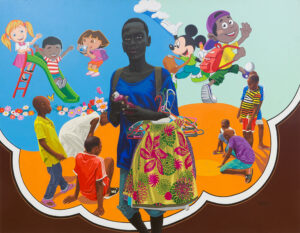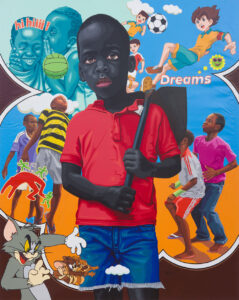 Education
• 2003 – Screen Printing & Calligraphy, Atelier Viking, Douala, Cameroon
• 2002 – Fine Arts, Atelier Viking, Douala, Cameroon