ADAM PATTERSON
Bikkel (performance), 2018
About:
Born in Bridgetown, Patterson graduated in 2017 with a degree in fine arts from Central St Martins in London. He's currently studying for a master's degree in education in arts at the Piet Zwart Institute in Rotterdam, in the Netherlands. Consistently exhibiting since 2014, Patterson is quietly passionate about subverting Caribbean stereotypes through his art practice.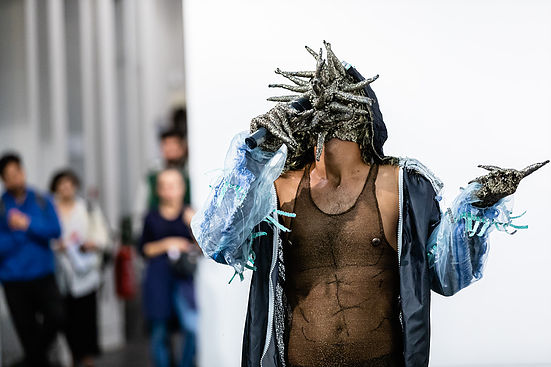 Bikkel (performance), 2018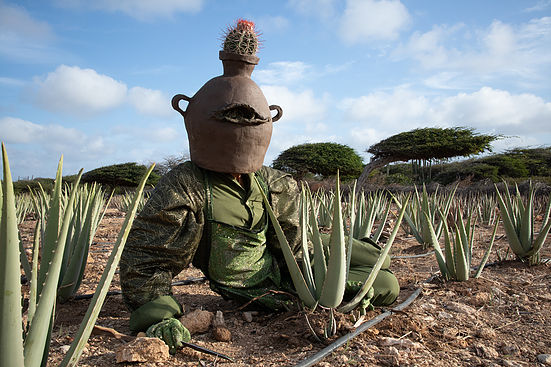 Buchi Bushi (performance), 2018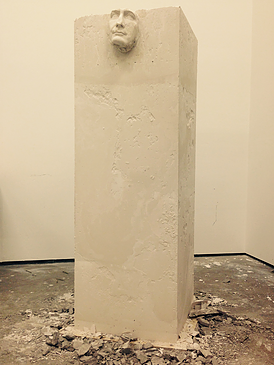 They Carved Until They Set Me Free, 2014
"Depending on the idea, there's usually a medium that suggests itself," says Patterson of his creations and performances. "I enjoy working with performance because it offers a lot of space for including text, voice, and the whole creative dimension of costume-making. And I enjoy the theatrical aspect of it, the flexibility of performance."(quotes out of text written by Shireen Ali for Caribbean Beat Magazine, Jan/Feb 2019)
https://www.adampatterson.co.uk/yuh-too-sweet-ii
Patterson is artist and writer. He investigates the processes of how stories, images and conditions of being gazed at affect the emergence of one's selfhood, self-determinacy and right to opacity. Patterson developed a practice of telling new stories or rethinking old stories in new recuperative ways, working across a variety of media including mask-making and masquerade, video, critical writing, poetry and performance. He graduated from Central Saint Martins (London, UK) in 2017. His works and performances were showed at a variety of events and projects such as Jerwood Visual Arts (London, UK), the Barbados Museum & Historical Society (Bridgetown, BB), Tate Modern Switch House (London, UK) and Winterwolven V (Roodkapje Rotterdam).(text Roodkapje site Rotterdam).