Allison Janae Hamilton Pitch
MassMoCA, North Adams, MA, through February 2019
Pitch, 2018.
About the exhibition
Allison Janae Hamilton's evocative work is influenced by the sights and sounds of the southern landscape. Her photographs, videos, sculptures, and installations feature environments familiar to the north Florida and Tennessee landscapes that are home to her family — boiling swamps and tall pines, vespid wasps and green anoles, wild horses, and white clapboard houses. Hamilton creates a sense of place that is both magical and menacing, with Spanish moss decorating the knotted trees, music filling the humid air, and alligators roaming the shallow waters.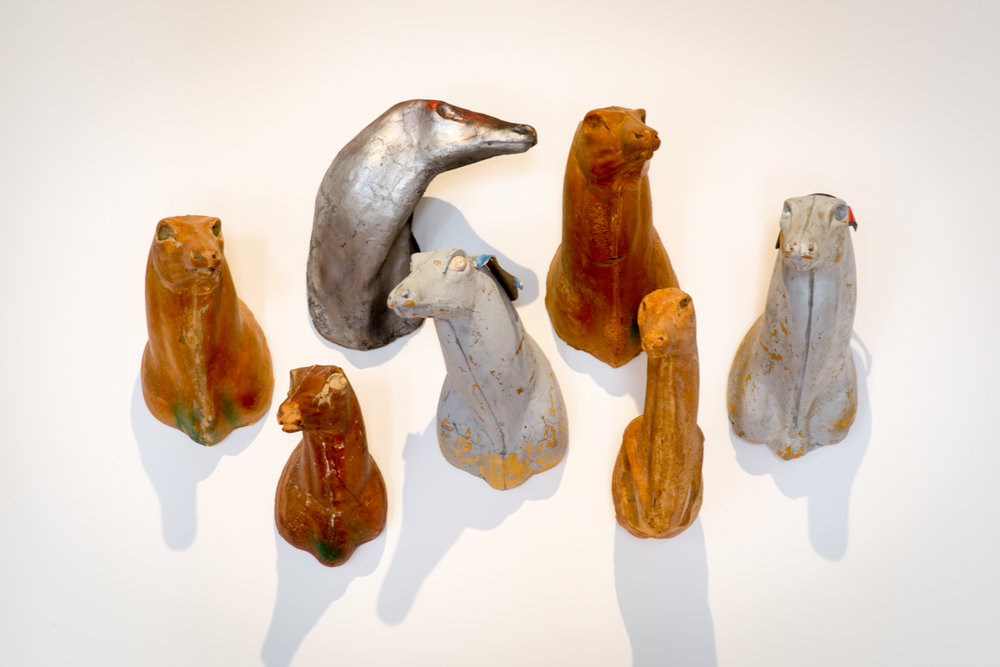 Pitch Installation View, 2018, photo David Dashiell.
But for Hamilton, this terrain and its inhabitants are not the stuff of fiction or gothic fantasy, but tangible matter of palpable consequence. The commanding, full-sized alligators that are a powerful symbol in her work draw both from the mythical ouroboros and from her experiences growing up in a family network of hunters. Sustainability and the future of this verdant, balmy environment — and the environment at large — are significant themes in her practice. (Hamilton works with friends and family to sustainably source the reptile carcasses.) Land is as important a character in Hamilton's narratives as the family members who help populate and produce many of her performance-based works. A mix of personal realities and epic narratives, the artist's rich vision of the rural landscape is a lens through which she explores the intersection of agricultural, environmental, and social histories that continue to inform the present.
At MASS MoCA — in her first solo museum exhibition — Hamilton presents an ensemble of old and new works, including a new installation that looks to the legacy of the turpentine industry. The exhibition's title suggests not only the resin material of pine trees mined in the turpentine-making process, but also the myths and fables that take place in the pitch-black hours of the night, and an array of noises heard in the environment that inspires Hamilton, from the sounds of animals to those associated with labor and song.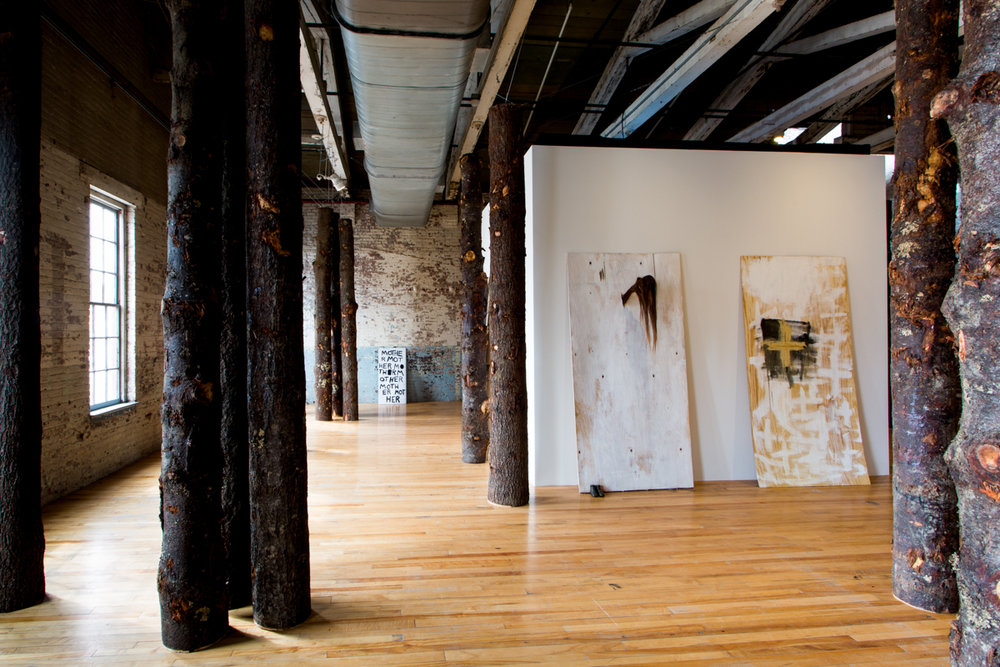 Pitch, Installation View, 2018, photo Davis Dashiell
Co-curated by Susan Cross and Larry Ossei-Mensah (text MassMoCA)
About the artist
Allison Janae Hamilton (b. 1984) is a visual artist working in sculpture, installation, photography, video, and taxidermy. She was born in Kentucky, raised in Florida, and her maternal family's farm and homestead lies in the rural flatlands of western Tennessee. Hamilton's relationship with these locations forms the cornerstone of her artwork, particularly her interest in landscape. Using plant matter, layered imagery, sounds, and animal remains, Hamilton creates immersive spaces that consider the ways that the American landscape contributes to concepts of "Americana" and the social construction of space, particularly within the rural American south.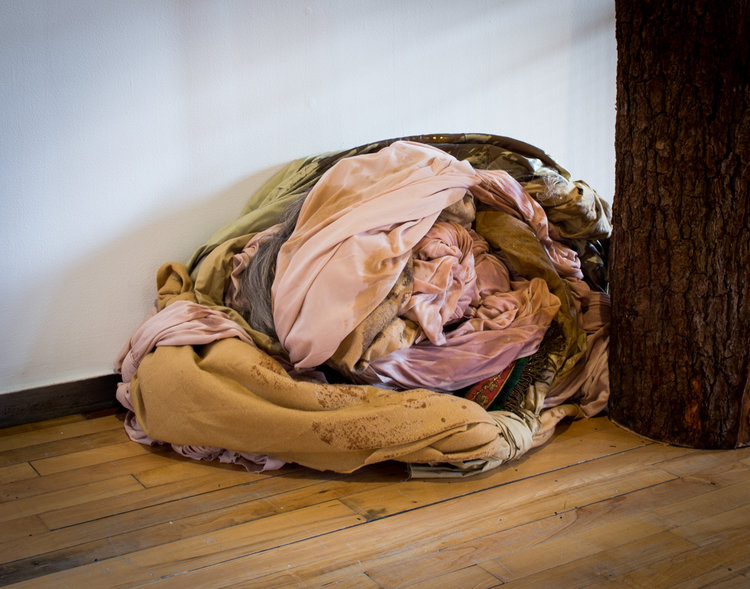 Pitch, Installation View, 2018, photo David Dasiell
In Hamilton's treatment of land, the natural environment is the central protagonist, not a backdrop, in the unfolding of historic and contemporary narratives. Through blending land-centered folklore and personal family narratives, she engages haunting yet epic mythologies that address the social and political concerns of today's changing southern terrain, including land loss, environmental justice, climate change, and sustainability. Each work contains narratives that are pieced together from folktales, hunting and farming rituals, African-American nature writing, and Baptist hymns. Drawing from all of these references, she envisions what an epic myth looks and feels like in rural terrain. In this vein, Hamilton's art practice centers on imagination in order to meditate on disruption and magic within the seemingly mundane rituals of natural and human-made environments.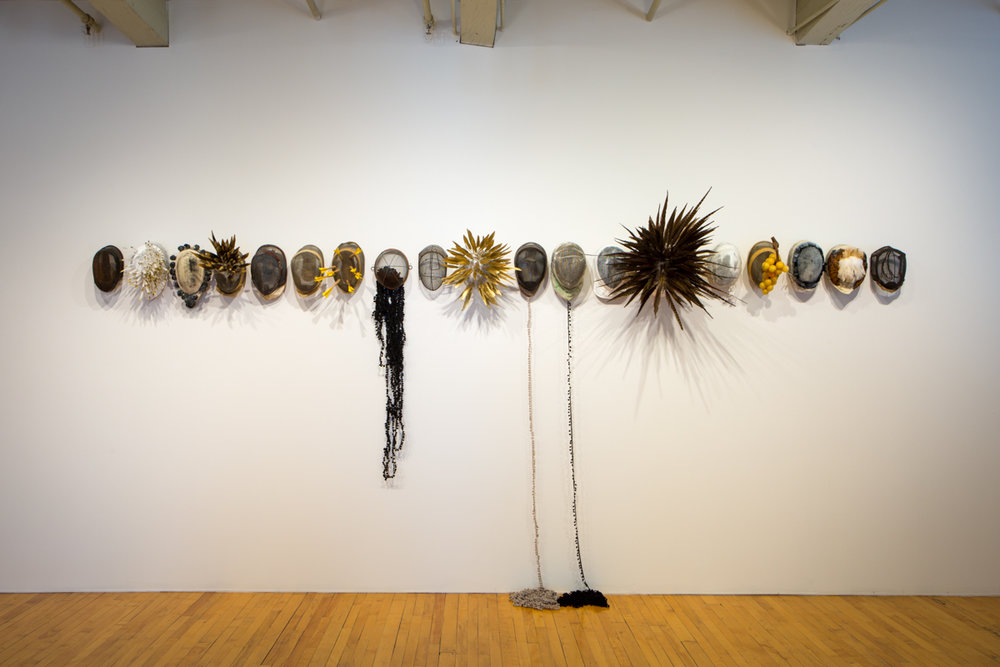 Pitch, Installation View, 2018, photo David Dashiell

Pitch, Installation View, 2018, photo David Dashiell.
Hamilton has exhibited at museums and institutions such as the Museum of Modern Art (New York, NY), the Studio Museum in Harlem (New York, NY), the Smithsonian National Portrait Gallery (Washington, DC), the Jewish Museum (New York, NY), Fundación Botín (Santander, Spain), and the Tacoma Art Museum (Tacoma, WA). Her work has appeared in the Brighton Photo Biennial and Istanbul Design Biennial. She was a 2013-2014 Fellow at the Whitney Independent Study Program, sponsored by the Whitney Museum of American Art. Hamilton has been awarded artist residencies at the Studio Museum in Harlem (New York, NY); Recess (New York, NY); Fundación Botín (Santander, Spain); and the Rush Arts Foundation (New York, NY). She received her PhD in American Studies at New York University and her MFA in Visual Arts at Columbia University. Hamilton's artwork has appeared in publications such as Transition Magazine, Women and Performance, Arte Al Limite, NKA: Journal of Contemporary African Art, and Artforum. (text website artist)
Hamilton's first museum solo exhibition, Allison Janae Hamilton: Pitch, is currently on view at MASS MoCA through February 2019.