Amani Lewis
About:
Amani Lewis is an artist based in Baltimore, Maryland. In 2016, they graduated from the Maryland Institute College of Art with a BFA in General Fine Arts and Illustration.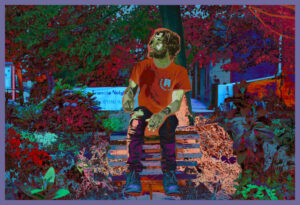 "Negroes in the Trees is a series that explores the ways in which we, as black individuals, in this urban community of Baltimore connect to nature and our surroundings. We often think of nature in terms of natural landscapes and wildlife, spaces that rarely exist in urban settings. In Negroes in the Trees, I want to create an imaginative environment that wrestles with our undeniable connection to nature, despite being outside of the rural community. In this series, the trees, flowers and plant life meld into the urban backdrop, blurring the lines between what is natural and architectural. Akin to the roads and pathways on a map, I use a continuous line technique to define the contours of the subjects faces and bodies. The process of creating each figure, as well as blurring the distinction between the body and its surroundings, re-inscribes a physical connection to nature that has been lost through urbanization.
"The Great Migration" was an era of mass exodus from racial terror in the predominantly rural South. To reference Bryan Stevenson of the Equal Justice Initiative, Black people arrived to cities like Baltimore "…as refugees, exiles from lands in the South where they were being terrorized." In Negroes in the Trees, the figures' bodies and their surroundings hold generations of migration, memory, resilience, loss, and displacement; while also speaking to the healing power of connecting to nature. In urban areas that are systematically under-resourced, the people are barred from accessing high quality food, education, jobs, healthcare and health practices. My work speaks to the inherent power, beauty and culture that make up Baltimore, that lies within the fibers and roots of the city, its people and their history, as well as calling each of us to reconnect to the nature that surrounds us and create the resources we need from once that connection has been built.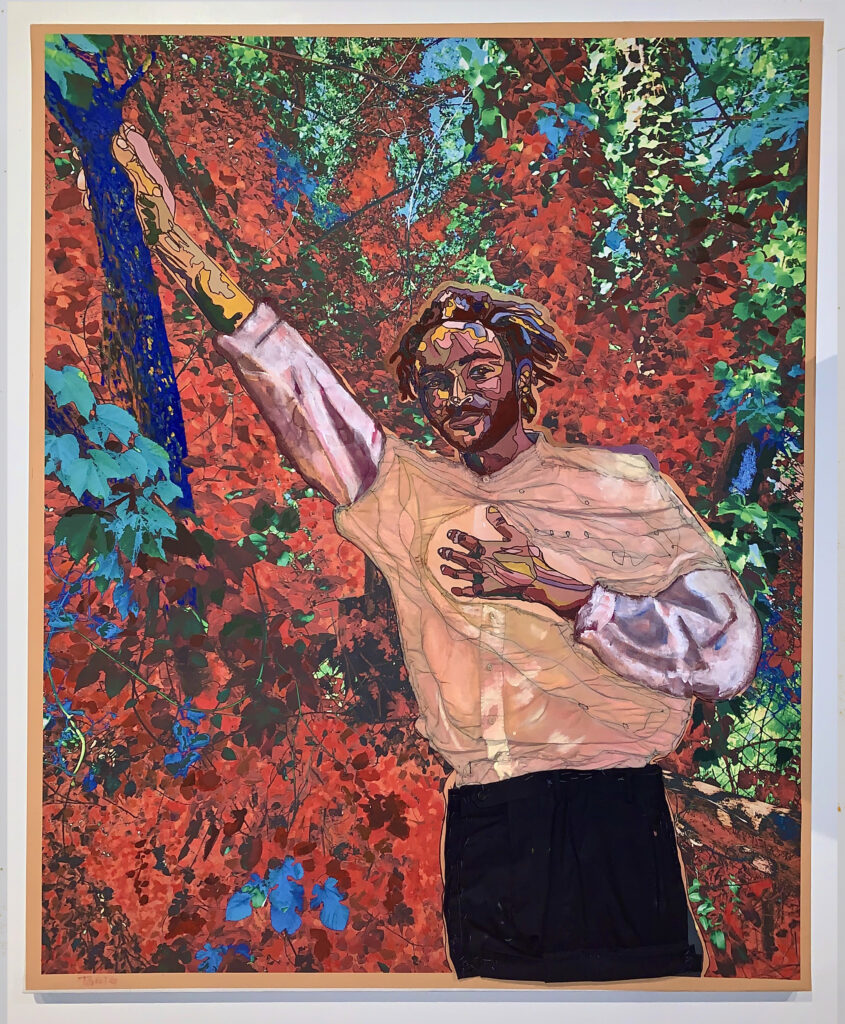 My work exists because these people exist. As the artist, it is important for me to meet the people that make up Baltimore and listen to their stories. My paintings and the resources I garner as an artist work towards shifting the dominant narrative of Baltimore to hold the people and the complexity of our stories at the forefront. I share twenty to fifty percent of the proceeds when a piece is collected with the subject and my collaborators. It is my goal to reimagine the mechanisms used by the media, a tool run by people who do not care to know the depth of our stories, to deepen my subjects perspective of themselves, their power and our relationship to the city. Each piece in the series begins with a photograph of a person. I then distort and saturate their image, modeling an aesthetic akin to a topographical map or heat map. As the artist, I reclaim the power the media wields to tell our stories for us. I manipulate and complexify images of an environment and people whose stories are manipulated and simplified by those who wield economic power over the landscape of the city. By layering paint and textures on top of the prints, my works become complex sites layered with vibrancy, life, heat, energy, growth, healing, safety, magic, and music. The end goal of this series is to gain and slowly begin redistributing the resources needed to shift the landscape of power and view of the city that make up Baltimore."