Amoako Boafo: Black Diaspora series
January 12 – February 16, 2019, Roberts Projects, Culver City, LA
untitled, 2018
About:
With its bold colors and patterns, Diaspora Series (2018, ongoing) is a celebration of Black life. It aims at challenging the notions of Blackness that objectify and dehumanize by equating it with negativity.
Portraying individuals from the Diaspora and the continent by highlighting self-perception and beauty, it invites for a reflection on Blackness and asks for an understanding of its diversity and complexity.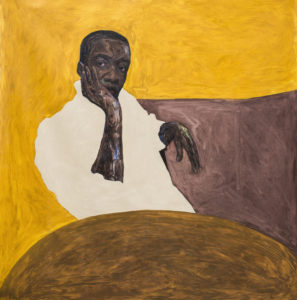 untitled, 2018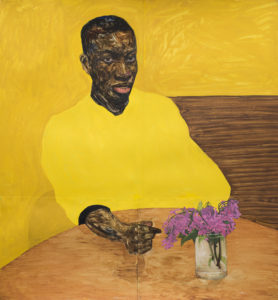 yellow dress, 2018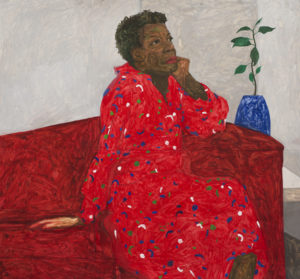 Red Dress, 2018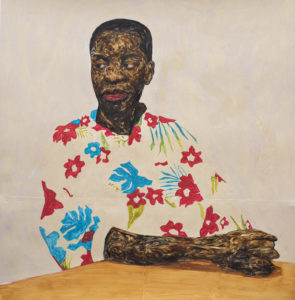 Await, 2018
Amoako Boafo. painter and artist, born in Accra/Ghana, based in Vienna/Austria. Studies at the Academy of Fine Arts, Vienna (Figurative Painting Class under Prof. Kirsi Mikkola and Contextual Painting Class under Prof. Ashley Hans Scheirl). Interested in investigating the relation of the personal and the structural by centering Black subjectivity and care. Works with oils, acrylics, and pastels on canvas and paper. Awarded with the jury prize, Walter Koschatzky Kunstpreis in 2017. Collected by private and public collectors, most recently Kehinde Wiley and The Albertina Museum Vienna.
Artist Education: Studying for MA in Fine Arts at the University of Fine Arts Vienna, Austria/Diploma 2007 Ghanatta College of Art and Design Accra, Ghana.