Natives, 2014 (installation).
About:
As the child of a Trinidadian mother and a Jamaican father, Chung considers herself Caribbean-American, and she is preoccupied with issues relating to the Caribbean region. She does not hesitate to admit the complexity of her heritage. "When I am in the Caribbean," she told me, "I am seen as more American. While in America I am seen as Caribbean. As a Caribbean person in America, I am often forced to confront the really skewed ideas that many people have about the Caribbean." (quote from Huffington Post, July 2014)
Natives, 2014 (installation).
My work examines cultures created under the influence of colonial and post-colonial regimes and their relationship to The Land. I mine foodstuffs, recipes and archival materials such as photographs and tourist publications, in order to reconstruct and create a new series of narratives, which I juxtapose against the stories told by the colony to sell romantic notions about nature and labor.
Sun Your Buns, 2013.
Through sculpture and painting I use food items and recipes to explore migration patterns, both voluntary and involuntary, and how cultures have been created through the influence of multiple mother cultures and the conditions of The Land. By manipulating photographs and tourism imagery, I investigate how The Land has been sold through picturesque fantasy and fantastic copy.
I ask the viewer to question the "real," the seen and unseen in order to navigate these conflicting narratives.
Bain de Mer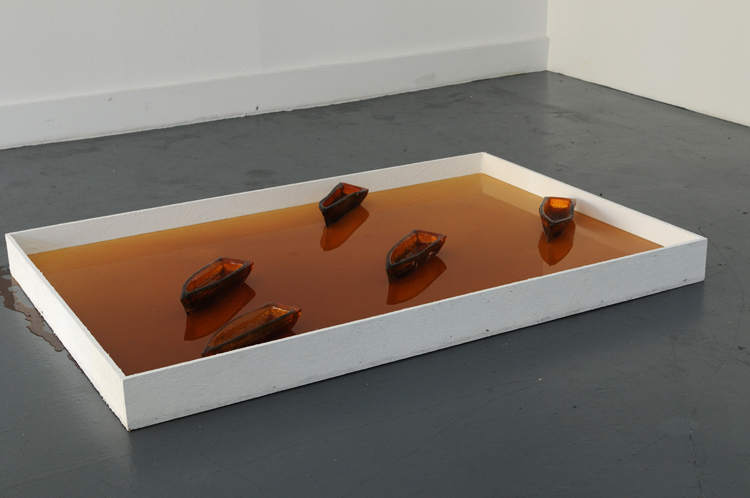 Bain de Mer (2013) is a site specific installation created at Helmuth Projects and is comprised of two pieces, and installation (Bato Disik) and a video projection (Bain de Mer). Bato Disik is an installation with a large water bath, filled with multiple boats, similar to the batos used by Mauritian fishermen in their villages, cast out of sugar. Over time the boats disappear, mirroring the disappearance of the fishing trade in Mauritius. Along with the sugar batos is Bain de Mer, an 8 min. video that is inspired by the tragic story of Le Morne, a coastal mountain in Mauritius where an entire village of escaped slaves leapt to their deaths to avoid recapture.
Sink & Swim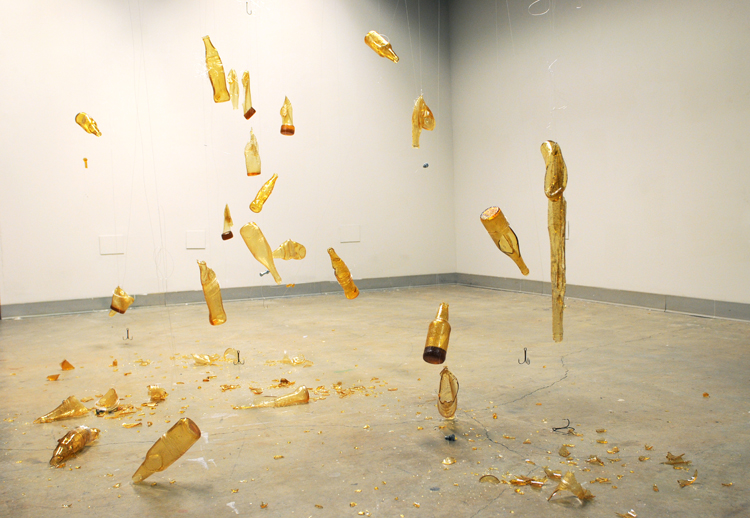 After the abolition of slavery on the island of Mauritius, many newly freed slaves (also known as Creoles) became fishermen and subsequently established small fishing villages, particularly in the southern part of the island, rather than return to the cane fields to work for their former enslavers. Many of these fishing villages remain today and these fishing traditions have been passed down for generations. Unfortunately the trade is now threatened due to over-fishing.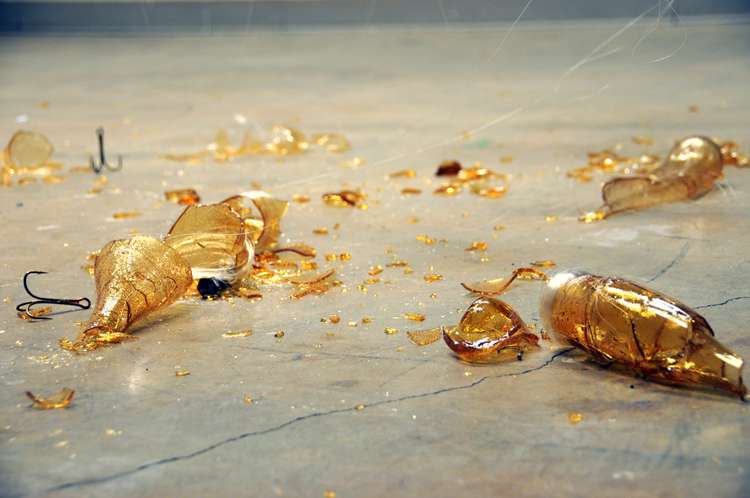 I cast liquor bottles out of sugar to recreate a method of fishing used by some Mauritian fishermen. The bottles are accompanied with small metal and sugar replicas of fishing tackle, such as weights and hooks, and are wrapped and entangled in fishing line. As I cast the bottles they are hung and left to the elements of the space. Over time the bottles melt, dematerialize and shatter, reflecting the disappearance of both a community and a trade.