Guzman has an inquisitive mind, ready to find out how the histories of the places he works or lives are connected to other parts of the world, always out of a strong awareness of the effects of migration, of decolonialism and with transatlantic black identity in mind.
Machteld Leij on Electric Dub Station of Antonio Jose Guzman (Panama 1971)
Electric Dub Station
Antonio Jose Guzman (in collaboration with Iva Jankovic)
Endless long banners in Indigo blue spill from ceiling to floor in the centre of the exhibition space OSCAM in Amsterdam SouthEast, in what used to be a shop. The cloth is heavy and feels reliable and warm to the touch. These banners, hanging from the ceiling thus forming a labyrinth, are part of Antonio Jose Guzman's and Iva Jankovic's newest project: Electric Dub Station. Its an exhibition, but also a Panamese-Congolese procession filmed at the Flevopark in Amsterdam East. Dub music sounds in the heart of the labyrinth, a style of music originating from Reggae, and of the African roots of many modern day music styles.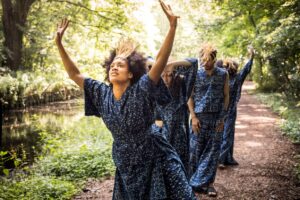 Video of performance, projected at OSCAM, 2020
Guzman (Panama, 1971) worked his DNA into the repetitive pattern of Blockprinting, sprinkled over the fabric in Indigo blue, the real, plant based dye as it is produced at the Ajrakh Indigo House with Indigo master: Sufiyan Ismail Khatri in Ajrakhpur, India.
Guzman participated in the Genographic Project, a research project for which his DNA code was unraveled. Guzmans DNA was traced back to West Africa (Senegambian), the Americas (Amerindian) and to Sephardic Judaism. Guzman has an inquisitive mind, ready to find out how the histories of the places he works or lives are connected to other parts of the world, always out of a strong awareness of the effects of migration, of decolonialism and with transatlantic black identity in mind. Guzman was born and raised in Panama and is of Sephardic Dutch descent. His roots are scattered as a result of the African diaspora and so he dives into history, and shapes the facts he finds into elements which become part of a new mythology.
*
The plural path of human migration, sketched by DNA, provides Guzman with the fuel for his art. He lives in Amsterdam where he nowdays collaborate with Iva Janković, also an artist and a fashion designer. Guzman explains, on a rainy day in september: "I moved to Amsterdam in the nineties. It was an interesting time, the rave scene was huge, people had blue dreadlocks, they wore colorful futuristic clothing, there was an active electronic music scene and regular raveparties. All of this changed after the attack on the World Trade Center in 2001 and the assassination of Theo van Gogh and Pim Fortuyn . All color disappeared and people became all too serious and generic."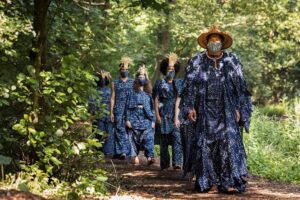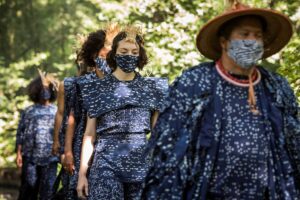 Video of performance, projected at OSCAM, 2020
Although Guzman seems to stay in an ever changed city, while the world seems to be his playground, the fact that he is a father with children growing up, keeps him rooted where he is. They function like an anker, he explains. It is why we stay here, for now. Guzman, who takes an interest in any location he works or lives, came to be interested in the the Dutch utopian New Babylon project of the artist Constant, and in historian Johan Huizinga's notion of Homo Ludens. And there is also the fact that pre-war Amsterdam was the home town of a large Sephardic community. All these facts and finds power his work. For instance, as he leads the procession of dancers, all dressed in the Indigo pattern of his DNA design, while the clothes are designed by Janković. Obviously recent, as all the participants wear Indigo mouthmasks. The procession that was filmed as part of his exhibition in OSCAM and also part of the coming shows at the Amsterdam Museum and Sonsbeek (international art exhibition in Arnhem in 2021), looks like a lineair shaped rave. It follows the rules of a choreography, still leaving room for improvisation. All follow the leader in full attire, robes in the Indigo blue block print, same as the banners in OSCAM. He recites his DNA code while standing under a bridge. This architectural shape serves as a symbolical gateway to the world, as well as a shielding dome providing the ideal platform for his role as a shaman.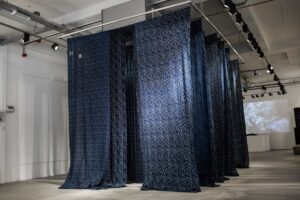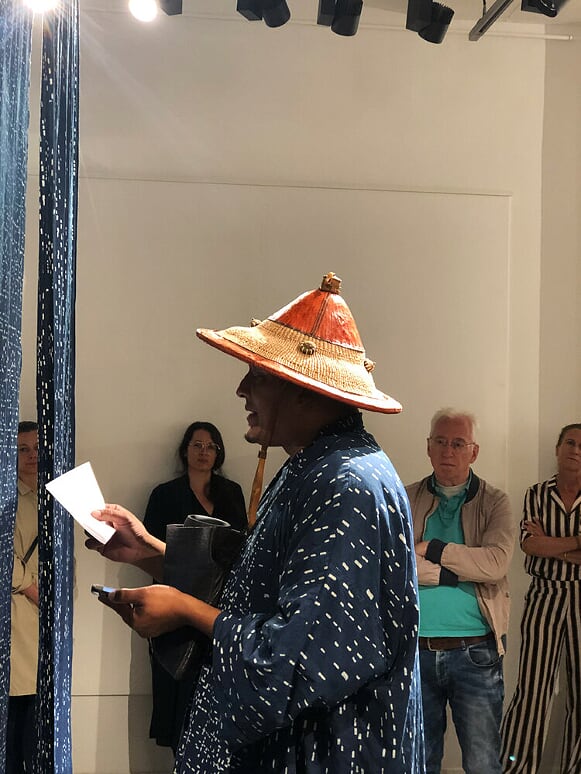 Performance OSCAM, 2020
On the opening night of the exhibition in OSCAM, Friday 11th of September, Guzman held a performance titled Ascension (Lotus Sütra), and dedicated it to the people scattered in the African Diaspora in the Americas. He envoked not only his own DNA, but also the names of slaves families and owners at the Indigo plantation Hanover in Surinam, as well as calling to the Orisha spirits to bless the future, linked to Yoruba religion.
*
As Guzman recites his personal DNA, it becomes somewhat of a Dadaist poem. And if you follow that breadcrum trail further into the work of Guzman, more can be found to confirm this resemblance. Guzman organised a performance-procession with art students in Groningen, as a part of his Supreme Exodus Trilogy, a series of performances that took place in Amsterdam, Groningen and at the Havana Biennial. The students followed him into the Groninger Museum, dressed in costumes, that in a few cases resembled the all too famous picture of Hugo Ball, in which he is wearing papery costume in Cabaret Voltaire, Zürich. Its a side issue of course, as the story of Guzman is at foremost that of the Diaspora, of Decolonialism and of influences that go either way. By reciting facts of an Indigo plantation in Surinam during his performance in OSCAM, alongside with the number of enslaved people who were forced to work there, the amount of produce, and eventually the discovery of a synthetic Indigo that made the production of Indigo in the Dutch colonies obsolete, the history is called to live, through Guzmans voice.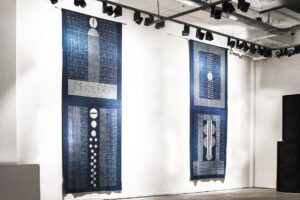 Installation views OSCAM, 2020
Guzman started his interest for blockprinting indigo textiles when he was asked to participate in a project of the Dutch Organization: Textiel Factorij, an initiative that facilitates collaborations between artists and craftsmen in Gujarat, India, a region dedicated to the production and processing of Indigo, for centuries. Primarily artisan Sufyian Khatri worked with and added to the cloth DNA design of Guzman, using traditional block prints. This block print of his DNA sequency is in shape very familiar to the cardboard books used for playing the barrel organ, which are in their turn very similar to the punched cards used in a Jacquard Loom machine (manuel for weaving). And those cards would be the forerunners of the IBM punch cards.
*
Modern techniques prove to be older than you'd expect. For a previous project Guzman followed the lineage of this Barrel Organ, which is linked to the Netherlands, where this instrument still can be heard weekly in the streets on Saturdays. Guzman however doesn't leave it at that. He traces the instrument back to Haiti. Guzman sees it as a very crossover instrument as it was developed in Italy and the colonizing French brought the instrument to Haiti, where it became very popular. While he was participating in 2019 in the Havanna Biennial, he organised a procession, in robes made by Janković, as a part of the Supreme Exodus Trilogy. The musical score, written in 2015 for the Havana Biennial together with composer Alejandro Matamala and Leon van Leeuwen from Perlee Barrel Organs, and mixing marimba rythms on the barrel organ with the music of musicians playing yoruba instruments and rythms.
Music and sounds are as important elements as the tactile, visual aspects of his work. His compositions and music pieces are added in an organically expanding toolkit used to expand his practice. There is another important element: Guzman almost never holds performances as a solo. His endeavours often take the shape of partnerships and collectives like The State of L3, with other artists, musicians, curators and thinkers of African descent, or interest. His performance in OSCAM was a solo without other participants, due to covid. The exhibition filled partly the gap left by art manifestation Sonsbeek, where Guzman and Jankovic would show their work. Sonsbeek will not take place until next year. But it doesn't hold Guzman back, luckily, as the near future promises exhibitions in Amsterdam Museum for instance and a performance 7 november at CBK Zuidoost as part of the exhibition A Fair Share of Utopia.
More information:
Photos by Iva Jankovic & Marlise Steeman.
www.aguzman.com
Refresh Amsterdam, Sense of Pace, exhibition in Amsterdam Museum, 11 dec- 28 maart 2012 www.amsterdammuseum.nl
A Fair Share of Utopia
www.cbkzuidoost.nl/nieuws/verwacht-a-fair-share-of-utopia
Sonsbeek
https://www.sonsbeek20-24.org/nl/over-ons/over-sonsbeek/
Machtel Leij is an art historian, art critic from Leiden, The Netherlands