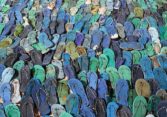 In November last year I started travelling in the Caribbean region, researching the sustainability of contemporary art practices and the influence of international (exchange) projects, funding, markets and politics. During my research I will be keeping a travelogue for Africanah. My first stop in the region is Ayiti (Haiti), one of the islands in the region I have not spent any time before.
Sasha Dees on the first episode of her Caribbean Travelogue: Haiti.
Tony Capellan (1955-2017) Mar Caribe, 1996.