Betye Saar
Shaman, 1991
First published: May 12, 2020
MIT and the Spiritual Component of Technology, Online now at Roberts Projects, Los Angeles
Beyte Saar has over the years, and within the sweeping scope of her inimitable working process, continued to seek out and celebrate mystery in all its forms. The dynamics that inform her work are squarely based in her belief in an inherent mysticism alive and pulsating within the universe itself, and each of her works speaks in some way to this ecstatic pull toward the unknown. Saar has described her working process as an intuited response that works "like radar in accumulating materials, the found objects and disgards then altered, manipulated and transformed in assemblages, collages and installations." In other words, like all great artists, she is a magician and a maker of the highest order, compelling us deeper into our own dreams and imaginations through her unique use of imagery. As with other contemporary artists of her time, including David Hammons and John Outerbridge, Saar's rich visual language is engaged with the legacy of her heritage, yet unlike the other two, Saar's language is not only precisely about the black experience, but also, and perhaps more significantly, derives from her experience as a black woman, navigating both racism and sexism simultaneously.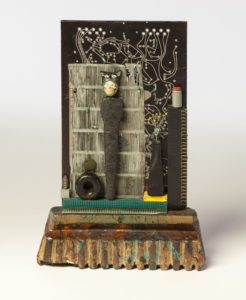 Guardian of Desires, 1988
In 1987, Saar was invited to participate in a month-long residency program at Massachusetts Institute of Technology's prestigious List Visual Arts Center. The literal product of that fertile period of reflection was her ground-breaking assemblage installation entitled Mojotech (1987) which featured a variety of materials including voodoo symbols, charms and amulets embedded into broken pieces of circuit boards, but the more elusive, and perhaps more complex reality that emerged from this work was Saar's own realization that technology possessed within it a dualistic spiritual narrative. Mojotech was a communal project that encouraged visitors to interact with the work, leaving behind their own small offerings placed on an altar like platform as though Saar's assemblage was a revolving tapestry of planets and constellations transforming all the time and in concert with those who came to see it. The idea of inclusion, of opening the discourse to the viewer, necessarily involves the human spirit, the impulse to create not as a solitary act, but as a gesture of compassion and good will, and perhaps even as a mode of spiritual awakening.
Indigo Illusions, 1992
This project was a launch pad for Saar wherein she continued this investigation; creating works made from the leavings of old and dilapidated circuit boards, i.e. the detritus of human "progress." Though these pieces are drawn from the same impulse, they are more discreet in terms of size and scale. For example, in the sculptural work entitled Shaman (1991), Saar has created a totem with a wooden avatar of sorts squarely in the center. The figure has blue eyes and wears a feather around its neck. Beside it rest two small wooden hands, one reminiscent of the open palmed supplication of Christ on the cross; the other a clear reference to Black Power. Behind the figure's head rests a small circuit board with a Buddha. Saar allows for every type of worship within the scope of the work. In other assemblages such as Sacred Symbols (1988), Saar showcases the circuit board as a kind of futuristic landscape replete with small red trees and carved hieroglyphics. Saar conflates the world of nature with the world of imagination. The circuit board is colorful and appears oddly organic as though also drawn from nature.
Still other of her sculptures are more overtly narrative as in Guardian of Desires (1988), where a strangely ominous figure stands, mummified with a half cat, half skull face. The background is made from a circuit board that resembles the night sky with stars and a variety of constellations. Yet, despite the works apparent whimsy, it is also dark and mysterious. Like many of Saar's works, Guardian of Desires can be viewed from the front or the back; the rear of the sculpture revealing a more sinister narrative with small silver body parts hanging like limbs from the trees. There is an obvious association with the lynching of young black men in the South, yet there is also a deeply spiritual sensibility at work here as these shapes, as with the human souls lost during that horrendous and bloody time in our human history, are fortified through loss which is emblematic in the tarnishing of the silver.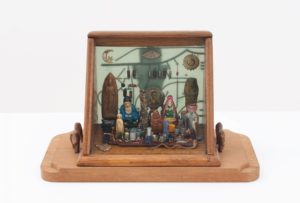 Kingdom of the Spirits, 1991
Saar weaves together a tapestry of mystical experience drawn from and encompassed within a variety of religious iconography from hieroglyphics to images of mummies, the Eye of Providence, snails, skulls and human hearts, all alluding in some way or another to the idea of sacrifice. Saar does not privilege any one mode of spiritual understanding over another, but instead allows each symbol to exist within the larger context of a more comprehensive and inclusive mystical experience. For example, in the work Indigo Illusions (1991), Saar creates an altar where the all-seeing Eyes of Providence are different colors, suggesting two different modes of comprehending the living world. Also within this work are two blue candles on either side of a small Egyptian sarcophagus. The color blue has significance in that it is usually associated with the Virgin Mary, the Star of the Sea, as she is often called. Similarly, in Cryptic Confessions: The Question (1988), Saar showcases the color blue as the lustrous seemingly starlit backdrop onto which she positions two small Egyptian figures as talismans of mysticism. Again, the artist creates visual relationships between various symbols, but ultimately her real interest is not the symbols themselves but the dialogue between these elements. She builds small and intimate narratives that tell stories of our human longing and the desire to embrace mystery in all its complexity, rather than fear its unpredictability.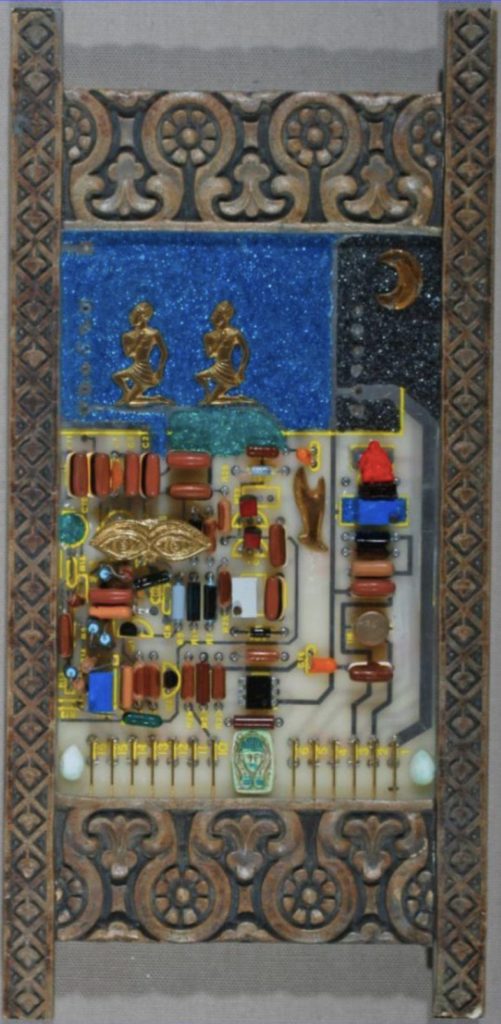 Crypitc Confessions: The Question, 1988
Still other objects address specific religious iconography, albeit creating a dialectic between images. For example, in Kingdom of the Spirits (1991) Saar creates a manger like scene where all religions are represented, thus suggesting that, despite our differences, we are all interconnected. Lost Dimensions of Time (1988), is another work that suggests unity within separation. In this sculpture, the circuit board doubles as the facade of a building which is strangely reminiscent of Frida Kahlo's The Suicide of Dorothy Hale (1938), yet Saar's vision is again ringed in blue quietude. Some of Saar's works relate more specifically to Eastern culture. Such is the case with Survival of the Spirits (1993) which gives us a Chinese dragon, coiled and ready to strike. The dragon appears to emerge from the detritus of our human technology. For Saar, the circuit board is a kind of magical platform into which she can imagine new beginnings. The Tantric Hand (1993) is also a great example of how the artist starts with a specific image and recontextualizes it, using other cultural references.
*
Finally, Saar's work is profoundly generous in its ability to generate visual relationships where meaning continues to open out and expand with the passing of time. With each new generation, Saar's oeuvre continues to not only educate, but to magically reiterate through visual form, our human need to believe in something beyond ourselves and our limited human understanding. Hers is an ever-inclusive experience, a rarified and sensitive approach to the mysteries of life and death and the liminal expression of our humanness. We look and we learn, and are made the better for it.
Courtesy: Roberts Projects, Los Angeles
For further reading:
MIT List Visual Arts Center
Betye Saar Mojotech Catalogue
Betye Saar MIT Residencey Announcement, 1987
MIT Tech Talk "West Coast Artist Creates 'Mojotech' at MIT", April 15, 1987
MIT Tech Talk "'Mojotech' Melds Human Spirit with Technology", May 13, 1987