Bisa Butler
Trouble Man Blues, 2017
About:
Bisa Butler was born in Orange, NJ and raised in South Orange, the youngest of four siblings. Butler's artistic talent was first recognized at the age of four, when she won a blue ribbon in the Plainfield Sidewalk art competition. By age five, Butler was named the "artist of the month" at her nursery school. She currently resides in West Orange, New Jersey and is a Newark Public School art teacher.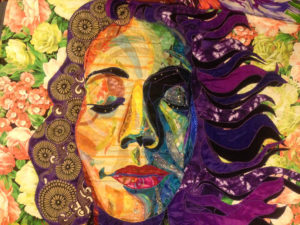 I dreamt of Coretta, 2017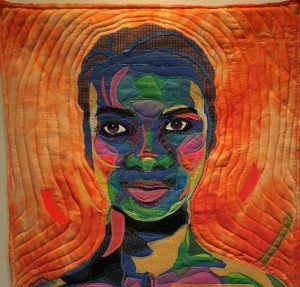 Sun Ra, 2017
Garden, 2017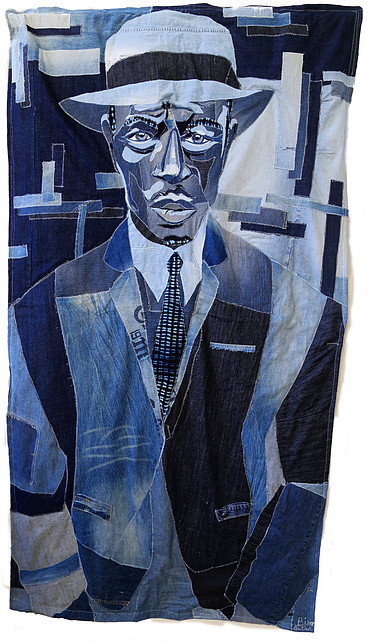 Basin Street Blues
A formally trained artist, Butler graduated Cum Laude from Howard University, with a Bachelor's in Fine Art degree. It was her education at Howard that Butler was able to refine her natural talents under the tutelage of such lecturers as Lois Mailou Jones, Elizabeth Catlett, and Ernie Barnes. While at Howard, Butler also studied the works of Romare Bearden, Faith Ringgold, and Henry O. Tanner.
While in the process of obtaining her Master's degree on the road to a career as an art teacher, Butler took a Fiber Arts class that the light bulb went on and she finally realized how to express her art. "As a child, I was always watching my mother and grandmother sew, and they taught me. After that class, I made a quilt for my grandmother on her deathbed, and I have been quilting ever since."
Recently Butler had the honor of having her artwork displayed at the Smithsonian Museum of American History, and at Walt Disney World's Epcot Center.
Butler's quilts are enchanting works of art. These quilts communicate art, emotion, heritage, tradition, and beauty. The quilts of Bisa Butler represent a merging of artistic excellence and quilting magic.(text Hearne Fine Art)