Bob-Nosa Uwagboe : Police Brutality
by Paul Laster
Boldly capturing anxious characterizations of troubled souls in his textured, fabric-collaged, acrylic and charcoal layered canvases, which are expressively composed with washes of overlapping colors, impasto brushwork and punctuated with elements of spray-paint, Nigerian artist Bob-Nosa brutally exposes the dark side of humanity in his deliriously delightful, provocative paintings.
Born Bob-Nosa Uwagboe in Benin City in 1974, he grew up in a time when there was a large exodus of young people from Nigeria because they had lost hope in the country's economic and political systems. The artist was 15 years old when students in his hometown rioted against the Structural Adjustment Program, which had been imposed by the International Monetary Fund and World Bank. The economic austerity plan implemented by the Nigerian government caused financial hardship and a deterioration of the normal standard of living, which led to civil unrest and police oppression.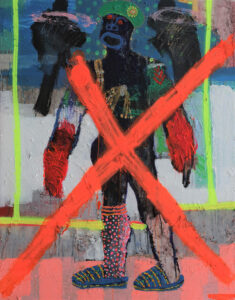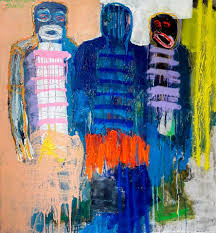 As a youth, Bob-Nosa was more interested in crafts that fine art—customizing tote bags and backpacks with scraps of fabric, which is a collage technique that he still employs on the surface of his canvases, and illustrating sign boards with scriptures for his church, which has transformed into scrawled texts in his current paintings. His other love was music, particularly the songs of such anti-apartheid, Pan-African activist musicians as Nigerian Afrobeat pioneer Fela Kuti and Jamaican reggae star Bob Marley, both of whom helped inspired his own activism through art.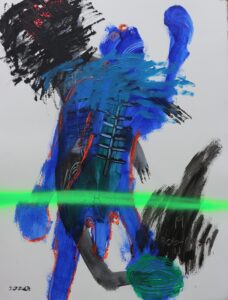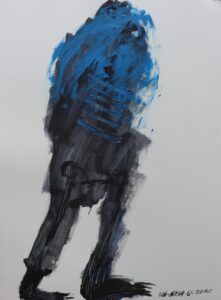 Prior to entering college to study art, Bob-Nosa stayed in an artist's studio, where he apprenticed to learn techniques for making art and lessons on how to maneuver through the local art scene. He worked there for three years and readied himself for school.