Cameron Welch
Outward Bound, 2018
About:
Drawing inspiration from both antiquity and modern life, Welch presents a series of
sculptures and 'paintings': wall-mounted mosaic reliquaries depicting his own mythologies,
specifically, untold stories of the American black experience. Formed by grouted tiles and
interspersed with quotidian ready-mades like items from eclectic markets and objects culled from
Brooklyn detritus, Welch intertwines, paints and assembles various materials to form the scenes
of his epic narratives. Often depicting heroic or quirky figures with whom he shares a kinship, or
surrogates for himself, the artist sheds light on unsung histories through complex myriad of
sensations set within the intricate topology of his works.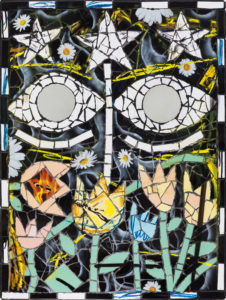 Blind Date, 2018
Previously working in collage and textiles, Welch transitioned into mosaic assemblage in part after
wandering through the Ancient Greco-Roman wing at the Metropolitan Museum. Noting that
people of African descent were often underrepresented regardless of being an intrinsic part of the
ancient world, Welch reclaims this history by creating monumental, lasting depictions with
culturally representative motifs. Drawing from his own personal experiences, especially being biracial,
the artist formed his practice around an effort to advance a more contemporary archeology.
Repurposing Greco-Roman characters, like in Black Cupid, the usually cherubic white child is
now fashioned with black tiling, shooting an arrow towards a blonde Venus with a bursting heart
and his name tattooed across her arm. In Monolith, Welch proclaims himself as a modern-day
Hermes, who in addition to being known for his playful trickery, is the god of trade routes, and
thusly, someone who connects diverse people together.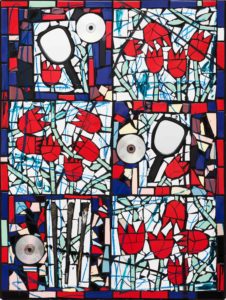 Floral Arrangement, 2018
Welch's use of materials also suggests one of his major inspirations: his adopted home of
Brooklyn and New York City. Like Welch's work, the city is a clash of a multitudes – a collision
perfectly encapsulated by the artist's work. By his own description, his local Crown Heights corner
store sells everything from cat food to machetes, a myriad of objects that often make their way
into his painting. Notwithstanding the grand scale and splendor of Welch's work, his aesthetic
retains a familiarity of improvised urban art, like homemade mosaics wrapped around street
lamps, jagged shards of colored glass atop walls, or paths of a community gardens decorated
with bottle caps. The tile he uses, small circles in honeycomb and simple white and black
rectangles, also recalls the New York City subway halls – and like the underground cityscape,
vary from perfectly aligned and gleaming, to smashed, sullied and covered in scrawls. He also
brings in bits of mirror and glass, where the viewer is flashed glimpses of light, as if catching
oneself in reflection of a glass storefront or the glint from a skyscraper.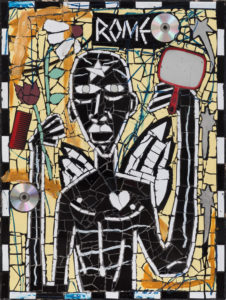 Loverboy, 2018
Of course, Welch follows a long line of New York based artists who took up the world around them
and absorbed it into their work, from Claes Oldenburg's store, Basquiat's graffiti-like gestures,
Rauschenberg's combines to Haring's simple cartoon figures. Growing up visiting the
Indianapolis Museum of Art, Welch describes the formative experience of seeing Thornton Dial's
work as inspiring him to look outside of typical art materials in art-making.
In his studio, Welch describes a sense of rhythmic violence and sonic energy in the preparation
of his materials: the pounding and hammering of tiles into shards echoing a hypnotic drumbeat,
and the forceful shattering of the glass and ceramic surfaces discharging like brass crescendos.
The repetition from dark to light color gives the eye a similar rhythmic occurrence, and the figures,
bent and writhing suggest the same pulse, action and movement. Music continues to be an
outstanding theme that infiltrates the experience of Welch's work, often including figures holding
Hermes' famous lyre, African drums or even entire musical instruments like keyboards and
trumpets. Welch also embeds CDs in his works – local musician's demos often sold or found on
the streets in his neighborhood – ironically rendered useless by their inclusion in the mosaic yet
retaining a cultural record of the moment and time they were written.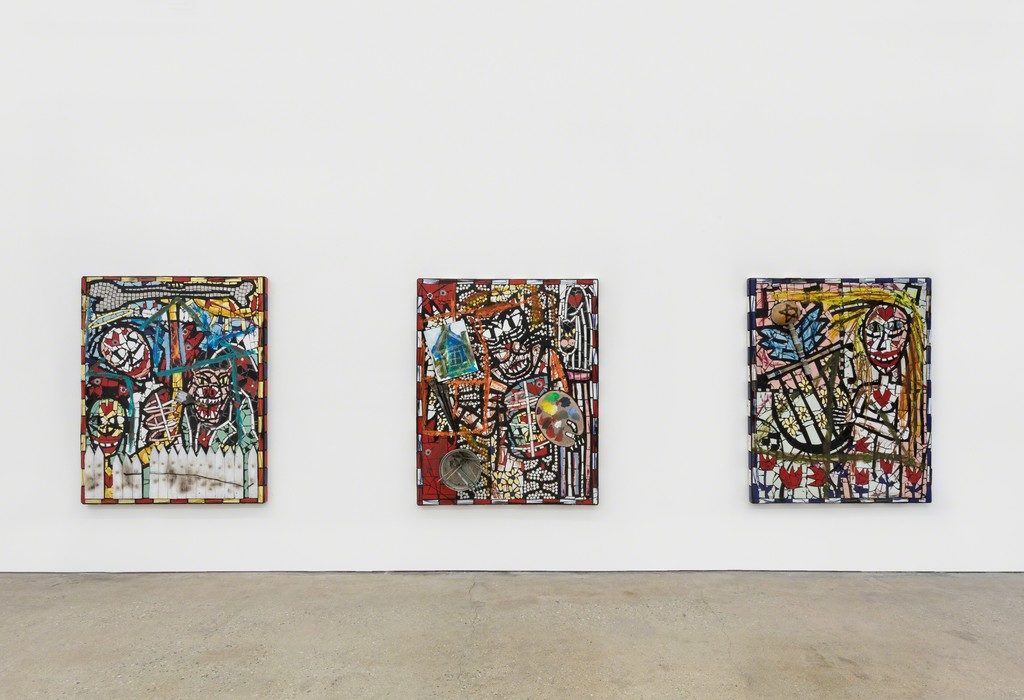 Installation view, Nino Meir, 2019
For Monolith, Welch also presents a single stand-alone sculpture, Rhythm Section, a tiled columnlike
totem covered in black and white faces. The images point to the crux of code-switching –
which often concerns people of multiple racial and cultural backgrounds, who struggle with
employing the right version of themselves in various cultural contexts. This is also his version of
an ancient Janus head, a multifaced figure presented in various states and guises, often set backto-
back. This motif was classically used to show Gods and their opposing God, or the same figure
before and after a metamorphosis, but moreover, to show a single figure looking towards the past
and to the future in tandem – a perfect metaphor for this new work by Cameron Welch.(text Nino Meir Gallery, Los Angeles)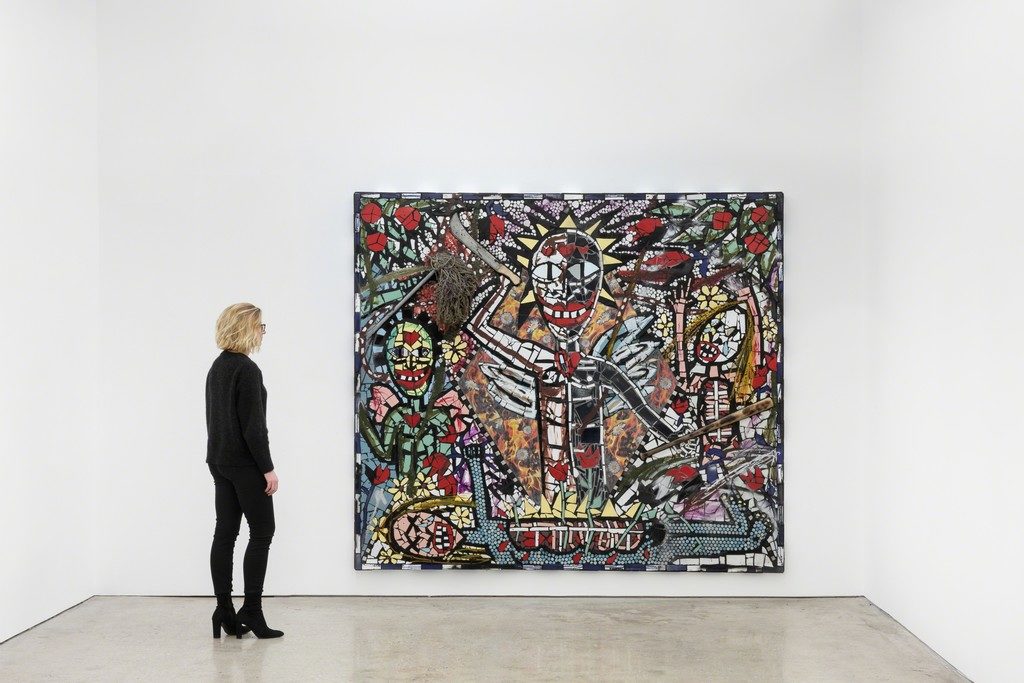 Installation view, Nino Meir, 2019