In November last year Sasha Dees started travelling in the Caribbean region, researching the sustainability of contemporary art practices and the influence of international (exchange) projects, funding, markets and politics. During her research she will be keeping a travelogue for Africanah. Her first stop in the region was Ayiti (Haiti). In March she reported about her stay on Korsou (Curacao). In the April edition Aruba was reported on. This month she writes on Jamaica.
Tony Capellán, Mar Caribe, 1996.
Caribbean Travelogue 4
Jamaica
It was after arriving in Jamaica that I realized I had sort of come full circle. It was here that I fully started my career in the arts twenty years ago. People during my trip often ask me how did you start, why did you want to work in the arts.
I grew up on a farm in Zeeuwsch Vlaanderen, the south of the Netherlands. Since I was a little girl I read books. I was fascinated by the fact that while reading I found there was a vast world out there beyond whom I was where I was and what I knew. More than the black and white cows, brown chickens and huge work horses; more than tall poplars, crying willows and apple trees; more than gray skies and changing seasons. Books made me wonder, I wanted to wonder, personally experience the answers to my questions. I needed to figure out how does one travel?
Growing up, I was the organized friend. My friends make music, write, draw, dance, but I could do none of these things. I however learned where to find what my friends needed, I made and maintained connections, learned how to deal with money or better yet manage with little, and found alternative ways to make things happen. These skills and qualities became the portal to my life of constant wonder.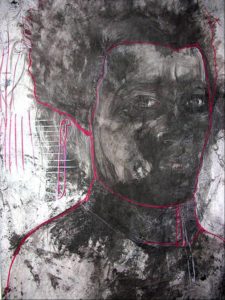 Omar S. Ra, Reconstruction: Legbara in Space (2004)
After dabbling around doing different things as a freelancer and doing art stuff on the side getting experience, I founded my own production company in 1998. One of my first clients was Fra Fra Sound / Fra Fra Big Band, a jazz band in Amsterdam. I worked on getting the band selected in the Ocho Rios Jazz Festival in Jamaica and in turn I got to travel as their promoter/tour manager. This trip to Jamaica marked my first work travel. After Jamaica I did several projects with the band, travelling to America and to Suriname. All fell in place as if a whole bunch of artist friends and friends of friends had been waiting for me to get my act together. I was lucky to have a lot of people and organizations contribute to my early professional life in the arts most importantly Philip Powel. Philip and I started working together in 1998 on a series called CrimeJazz words poetry and beyond. He asked me to come up with international writers, poets etc. for this. Our collaboration worked so well that we decided to keep developing projects together. We founded the not-for-profit John106 in Rotterdam with a focus on international, interdisciplinary, inclusive and innovative performing arts, visual arts, literature and film. In our proposals we would state that we have no intention to grow, but offer a platform through which the artists can grow into the art field at large. Our audiences were as much programmers, curators and producers for larger established venues and festivals as just visitors of all ages enjoying art. We held group exhibition for young emerging artists that nobody wanted to give a break (yet). We launched first books and albums for emerging writers and musicians that might have blessed our stage in a line-up before. We then were asked to suggest artists and make programs on smaller stages at such large festivals as North Sea Jazz Festival. Our mission: to contribute to a professional functioning international arts field accessible to and facilitating all emerging artists, not an elite few, and to give space to experiment and for trial and error. This is how I started working in the arts. Jamaica twenty years later affirmed my leap of faith worked out.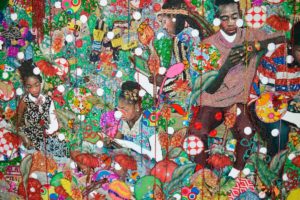 Ebony G Patterson, Detail of-…they were discovering things and finding ways to understand……when they grow up…, 2016-
I am excited to find lots of similar initiatives in Jamaica and to meet and talk with its founders. Small NGO's founded by one or two people that just do things that they, often artists themselves, lack in their field and just try to fill and fix. I love the conversations about their path to taking matters into their own hands. The humps and bumps, detours, run-ins with the establishment, building network, making alliances, making mistakes, being questioned, listening and learning and self reflecting.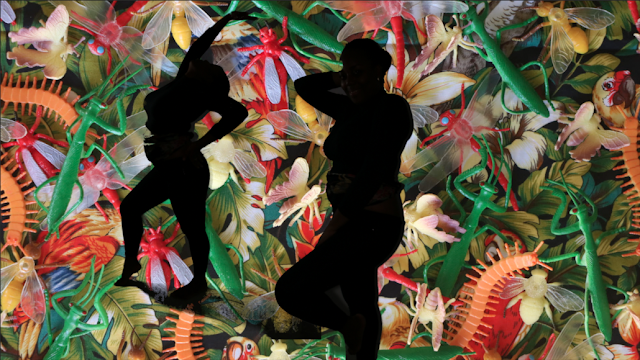 Oneika Russel, A bit of what you fancy (video-still), 2017
Jamaica is fortunate to have Edna Manley College for the Visual and Performing Arts (EMCVPA) which offers a BFA, it was accredited in 2004. Leading to EMCVPA and offering pre-education and workshops the NGO Studio 174, founded by director Rosemarie Chung in 2005, initially offered drawing and painting (including murals) but now it includes performance, installation, photography and video. The organization is located in downtown Kingston and aims to work in disadvantaged neighborhoods.
After the BFA-program students wanting to continue with a MFA program go abroad. Some return, some don't, some commute. A lot of the artists that have a practice like Omari Ra (aka Afrikan), Phillip Thomas and Oneika Russel also teach at Manley to have a steady income. EMCVPA's most international successful visual art alumna to date is Ebony G. Patterson. She divides her studio time between Jamaica and USA. Patterson is known to give back to the arts as a mentor and funding international residencies for emerging artists in Jamaica (Camille Chedda and Kelly-Ann Lindo being receivers of that). In April this year she launched a thirteen week residency for an emerging local artists under 40 at EMCVPA, in honor of her mentor Cecil Cooper, Head of the Painting Department at EMCVPA, who passed away in 2016.

Laura Facey, Body and Blood of Christ
Once out of school, the professional contemporary art scene in Jamaica mainly consists out of artist-led collectives and other small NGO's that do grassroots work. Examples are Paint Jamaica, in Fleet Street (downtown Kingston), by Matthew McCarthy and fellow street artists; New Local Space (NLS) on Mountain View Avenue (Kingston 6) by artist Deborah Anzinger; So((u))L HQ in Stony Hill, St. Andrew by Georgia Love and Afifa Aza; and BlaQ Mango art consultancy by artist Katerina Coombs and art historian Winston Campbell, who work in spaces that fit their respective projects/artists. They are complemented by small commercial initiatives like Suzie Wong presents founded by contemporary art dealer Susanne Fredericks, and galleries like Harmony Hall under the direction of Jessica Ogden in Ocho Rios; Olympia Gallery under the direction of Rosie Thwaites in Kingston; and the work by independent curator Nicole Smythe Johnson.
There are also a number of small media outlets and online platforms like the podcasts out of NLS; Tide Rising Art Projects, a video platform founded by Oneika Russell; Goatcurry TV, a video platform by Ania; and So((u))l HQ operating Zanj Radio.
All of the above provide a platform for those artists that live and work in Jamaica. They make (online) international connections in the region and outside. For instance NLS invites international artists and curators offering one or two residencies per year in Jamaica. Patterson offers artists residencies at EMCVPA and at Alice Yard (Trinidad). The organizations are all led by passionate people that often don't get paid for the work and time. They don't try to be high profile but just work hard and with heart to make change in their own surroundings for the field at large, without being hindered by political ties and obligations.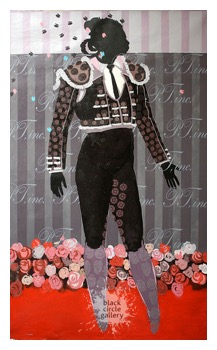 Phillip Thomas, Red Carpet.
They might not be able to do everything or make huge broad change but, it is obvious they contribute in small but key ways. Using their own resources and money, family owned buildings, time and effort they slowly but steadily work on their own careers as well as the art field at large. Benefiting other careers as well as their own. By joining forces and working together they potentially can create more sustainability, structure, continuity and longevity.
Thank god for all the above organizations and their founders and staffs coming straight out of the contemporary arts field and giving the artists and the field something to hold on too.
BACKGROUND TIMELINE JAMAICA:
5,000 – 4000 BC: Arrival of Guanahatabey or Ciboney, a cave-dwelling people from Yucatan.
300 AD: Arrival of Saladoid or Igneris (Arawak's).
650 – 900 AD: Arrival of Taino (Arawak's) from the Orinoco region in Venezuela.
1494 – 1503: Invasion by the Spanish. The island gets a few small settlements. Like a lot of the islands it is used as a supply base for Spanish ships and pirates.
1517: The first enslaved Africans arrive in Jamaica to work on tobacco, indigo, cocoa and banana plantations.
1655 – 1660: The English (Robert Venables and William Penn) invade Jamaica and take over control from the Spanish after a five year battle. The Spanish before leaving set all the enslaved Africans free, mostly settling in the mountains. Taino's are still recorded as living in Jamaica.
1660: The English grow crops for the European market. Indigo and cocoa are quickly overtaken by sugarcane. Sugarcane was brought to Jamaica by the Dutch who brought it to the Caribbean from Brazil. The English import more enslaved Africans to work on the plantations and by 1673 there were fifty seven sugar plantations by 1834 there were six hundred and forty six.
1723: France gifts Jamaica some coffee plants. This is the start of coffee plantations. Anno 2018 Blue Mountain Coffee is internationally renowned, 85% of which is exported to Japan.
1760: Tacky's (Easter) Revolt/Rebellion by enslaved Africans (Akan/Coromantee) on Frontier Estate in St. Mary parish led by Tacky, an enslaved chief from Gold Coast, modern day Ghana.
1808: Abolition Bill was passed.
1831: Baptist War (Christmas) Revolt/Rebellion by enslaved Africans on Kensington Estate in St. James, led by Samuel Sharpe. In 1982, Sharpe is conferred National Hero, together with Nanny of the Maroons, to date the only female National Hero in Jamaica.
1834: Emancipation, full freedom was granted in 1838.
1865: Morant Bay Revolt/Rebellion led by preacher Paul Bogle.
1872: The capital moved from Spanish Town to Kingston.
1879: The Institute of Jamaica, the Museums of History and Ethnography (now called National Museum of Jamaica) and the Natural History Museum authority is founded by Anthony Musgrave.
1887: Marcus Garvey is born in 32 Market Street, St. Ann's Bay (he passes in 1940). His likeness is on the Jamaican 20-dollar coin and 25-cent coin. He became the first National Hero of Jamaica (conferred in 1964).
1888: The first tourist hotel Constant Spring Hotel (100 rooms) is built.
1896 Journal of the Institute of Jamaica is established (now Jamaica Journal).
1938: Formations of first unions and political parties: Sir Alexander Bustamante founder and leader of Bustamante industrial Trade Union (BITU) and the Jamaica Labour Party (JLP). Norman Manley founder of the National Workers' union and the political party the People's National Party (PNP).
1940: Bauxite – alumina industry.
1940: Junior Centers is founded.
1945: Bob Marley is born in Nine Mile (he passes in 1981).
1950: Jamaica School for Arts and Crafts (now Edna Manley College of the Visual and Performing arts) is founded.
1958: Jamaica and ten Caribbean countries form the Federation of the West Indies. The people vote against it in 1961.
1962: Independence. Jamaica became a parliamentary democracy (Parliament) under a constitutional monarchy; a Commonwealth realm. According to the Democracy Index Jamaica today is considered a "flawed democracy", a qualification it shares with the United States of America and fifty six other countries. There are nineteen full democracies in the world.
1968: Air Jamaica is founded (ceased operations in 2015).
1972: African Caribbean Institute of Jamaica & Jamaica Memory Bank are founded.
1974: National Gallery is founded.
1979: National Library is founded.
2000: The Jamaica Music Museum is founded.
2004: Edna Manley College of the Visual and Performing arts BFA program is accredited.
2009: Usain Bolt wins World Records (9.59) on the 100 meter and (19:19) on the 200 meter in Berlin.
The size of Jamaica is 4240 square miles. It has a population of approx. 3 million people: black 92.1%, mixed 6.1%, East Indian 0.8%, other 0.4%, unspecified 0.7% (2011 est.), its main religion is Protestant (65%). GPD per capita is $9,200. (https://www.indexmundi.com).
The official language is English but the language most spoken is Jamaican Creole.
There are different versions of the origins of the name Jamaica. In some documentation, it's said it is the Arawak (unclear which family/tribe) called the island Yamaye (land of springs) and in other documentation, it says they named it Xaymaca or Haymaca (land of wood and water).
My research is in part made possible by Mondriaanfonds, my research in Jamaica in part by Annie Paul & Deborah Anzinger. Thank you artists, institutions and organizations in the arts field for making time to meet with me and refer me! Grammar fixed by Shawn Stewart Ruff.