Carrie Mae Weems: The Shape of Things

"Compelling…the visual and historical connections [Weems] makes [are] often insightful, sometimes funny, and occasionally quite direct."
—The New York Times, Critic's Pick
"Powerful…deeply compelling [and] at moments even revelatory."
—Vogue
Carrie Mae Weems, an artist who has consistently and poignantly addressed the conditions of race in the United States, created a multi-work installation and series of performances titled The Shape of Things.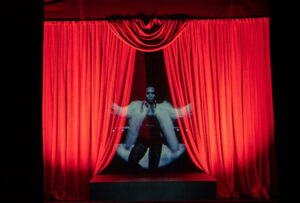 Weems' unflinching gaze at what she describes as the "pageantry" and "circus-like" quality of contemporary American political life find form in a series of large-scale installations and a cyclorama (a panoramic image on the inside of a cylindrical platform) of six to eight projections of new and existing film footage where Weems addresses the turmoil of current events and the "long march forward." Suggestive of a 19th-century carnival with dioramas based on spontaneous street memorials, peep shows, and a Pepper's Ghost, The Shape of Things is an incisive, powerfully emotional, and critical reflection on events both deeply embedded in American culture and history and the explosive events of the past year.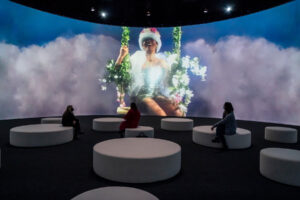 As much an activist as a creative, Weems has a long and celebrated history of engaging social issues with her art. In 1984, her first show, titled "Family Pictures and Stories," drew on the writings of Zora Neale Hurston and the photography of Roy DeCarava for its vibrant depictions of Black American life. In subsequent projects, Weems often inserted herself into the frame (as in her Kitchen Table Series from the early 1990s), centering issues of racism and sexism both in art and the world beyond it. As the critic and writer Megan O'Grady once described Weems's 2016 series Scenes & Take, the artist appears "in flowing black, a specter of the black ingénue who arrived too early, who was ignored, who never even had the chance to be."
Considered one of the most influential contemporary American artists, Carrie Mae Weems has investigated family relationships, cultural identity, sexism, class, political systems, and the consequences of power. Determined as ever to enter the picture—both literally and metaphorically—Weems has sustained an on-going dialogue within contemporary discourse for over thirty years. During this time, Carrie Mae Weems has developed a complex body of art employing photographs, text, fabric, audio, digital images, installation, and video.
In a New York Times review of her retrospective, Holland Cotter wrote, "Ms. Weems is what she has always been, a superb image maker and a moral force, focused and irrepressible."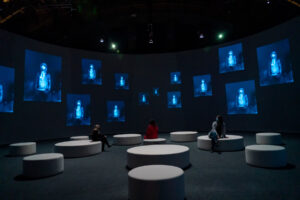 Weems has participated in numerous solo and group exhibitions at major national and international museums including the Metropolitan Museum of Art, The Frist Center for Visual Art, Solomon Guggenheim Museum in New York, and the Centro Andaluz de Arte Contemporáneo in Seville, Spain.