Georges Braque and Pablo Picasso who gave the medium its first kick would stare in awe if they visited Afriart gallery today as each of these young artists demonstrates a deep understanding of how to 'cut and paste' which form the core of the discipline
Matt Kayem on the groupshow Collage Broadly Defined in Kampala
Gael Maski, Personal Tansition Series, 2019
Collage Broadly Defined
Afriart gallery opened its doors on 20th March with an exhibition, "Collage Broadly Defined". Amidst all the panic that was going on globally, with the novel disease descending on the continent, it was a brave move for the gallery to still soldier on. I myself had just left the country to Lusaka where I'm still stuck after doing a residency. The gallery opened with a fresh look. Its floor refurbished and finished with a light grey coating. This must have settled the hearts of a number of its regular goers who I heard always complaining about the lighting in the space that wasn't sufficient owing to the dark grey concrete finish that was flooring the gallery. With this light grey finish, there was surely a difference as the much needed light was bouncing off well and illuminating the room creating the heavenly feel that is well-known of the white-cube spaces. This new look and the logo rebrand of the gallery now cements itself in the category of world-class exhibition spaces.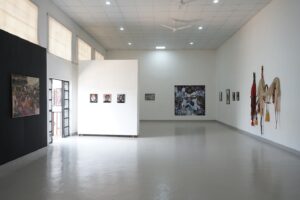 Installation shot of the exhibition in the new space.
The curator, Sarah Bushra brought to our eyes five artists from Kampala, Nairobi and Kinshasha working in the now trendy genre of collage. When you think of collage now, you won't fail to recognize names like Njideka Akunyili Crosby, Mickalene Thomas or Wangechi Mutu, all of whom are acclaimed artists of color. Maybe the art form is starting to connect with the darker-skinned even when it was related to the fairer ones, but maybe that's the case for art in general. Georges Braque and Pablo Picasso who gave the medium its first kick would stare in awe if they visited Afriart gallery today as each of these young artists demonstrates a deep understanding of how to 'cut and paste' which form the core of the discipline.
*
The curatorial input of the budding Ethiopian Bushra is very visible here with the selection of artists and the careful placement of work in the space. For the former, she discloses to me how she is disappointed to not having included a fellow country man in the show. For the latter, I enjoy the way she jumbled the artists' work around the space making sure each of their work is not close to the other. This creates some sort of a mess, the beautiful one, but unified and agreeing making it a wholesome and more pleasant experience to engage with. As the title states, the curator sourced around for artists who explore the medium in varied forms, ways and techniques. Each artist develops a different and personal language of the art form and invites us to their world not only to decode but also just get amassed in it. But since they are all working in the same medium, there is always room for similarity and this comes forth when you look at Canon Griffin, Gael Maski and Letaru Dralega and Eria Sane, whose work evokes the 20th movement – surrealism. You would think of Ocom Adonias' as close to Impressionism, while Maliza Kiasuwa reminds me of the assemblage era with the likes of Robert Rauschenberg leading it.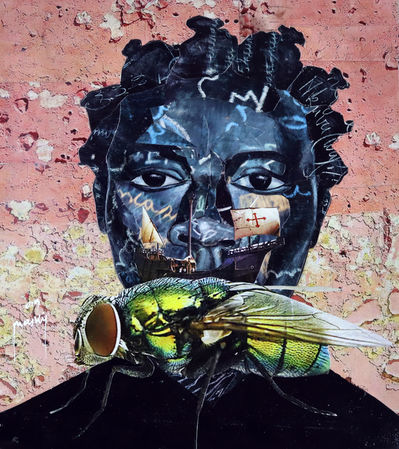 Gael Maski, Personal Transition
Gael Maski's work stands out not only for its closeness to naturalism but also for his use of color, interesting juxtapositions and eye-catching dream-scapes. His work is an effort to escape an imaginary world hinged on a fact that he moved to Kinshasha fleeing conflict in another part of the country. His work is mostly composed of human figures which take centre-stage. It's however his dramatic piecing together of the cut-outs from printed paper that creates these fragmented dream lands and further goes on to show the neatness and dexterity of his craft. The first time I saw Gael's work was when he was in residency at 32 degrees East in Kampala in 2018 and I immediately compared him to his likely counterpart, Eddy Kamuanga Illunga. I thought the two artists share something in common which was delivering works that balance both aesthetic outlook and conceptual maturity and content. Maski's work is not just beautiful to stare at but it tells a story, it evokes feelings which make him a strong artist. In the series, Personal Transition, he presents us with faces of people with something covering their mouths, a fly, and apple and a dove which is synonymous symbol in his work. In Touch which is the largest work among those he's showing here, a little boy who could be his younger self stretches out his hand to try and touch a floating man who could be his older self. They are all engulfed by a background of a city slum.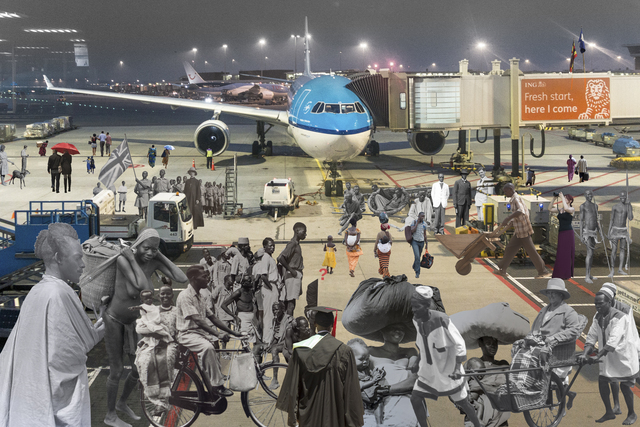 Canon Griffin, All these travellers, 2019
Canon is one of the two artists in the group that employs a digital approach to his art making. He does this with Photoshop, cutting and pasting several images into one to form a composition. And it's not your everyday composition, Canon's composition are often bizarre as he adds up images from anywhere that on a given day, will never be seen together. They could be from history, from the present, from one his strolls around his neighborhood, anything goes for him. He often also squeezes, forms spheres or turns landscapes to 180 degrees. What makes Canon's work really interesting is the difficulty to decipher what you see. You see a bodaboda(motor-cycle taxi) next to a colonial official and I think Canon's work is a deep exploration of himself and the world around him, his desires, his pursuits or his fears. It strikes me as personal to that level as I have interacted with him on several occasions and one thing- he is as eccentric as his work!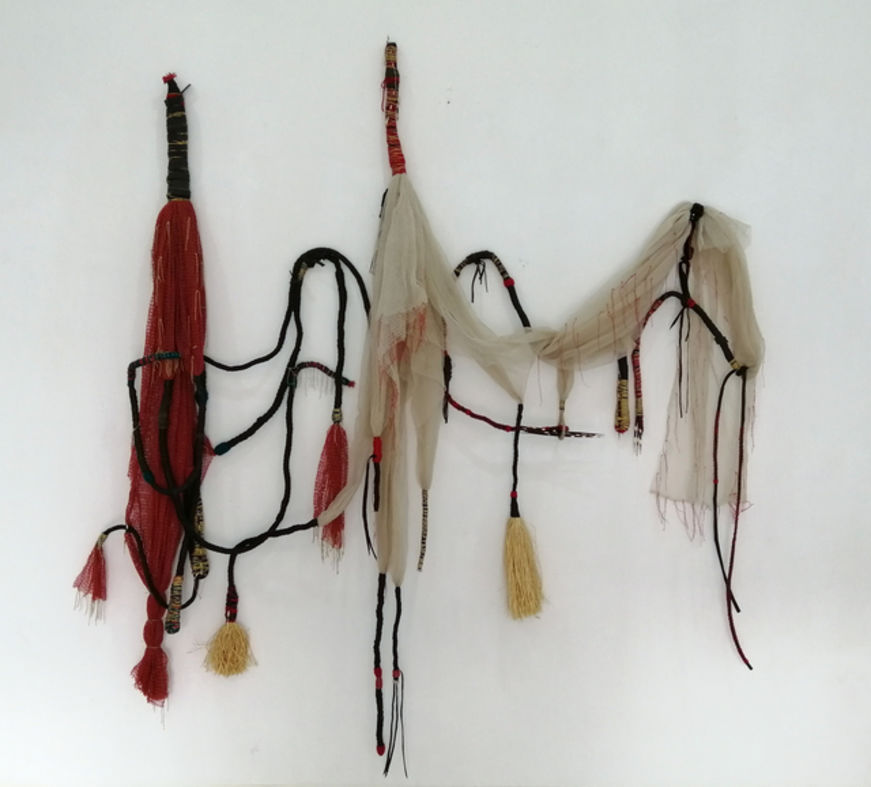 Maliza Kiasuwa, Today is Yesterday, 2020
Maliza Kiasuwa's work differs from the others for not only its minimalistic outlook which it might share with Letaru's but also for its sculptural quality. Her work is almost like relief sculpture; one of the pieces titled Today Is Yesterday 1 reminds you of Anatsui's bottle top tapestries. Maliza collects everyday items like cloth, rubber and raffia and reduces them by shredding or twisting. She further combines this with constructive processes of tying, weaving, stitching and dying. She speaks of the process as a form of meditation. Kiasuwa's practice stems from the desire to uncover the mystery behind ageing and death. This goes hand in hand with the raw materials she chooses to employ in her work as she further celebrates Africa's mystic power of nature.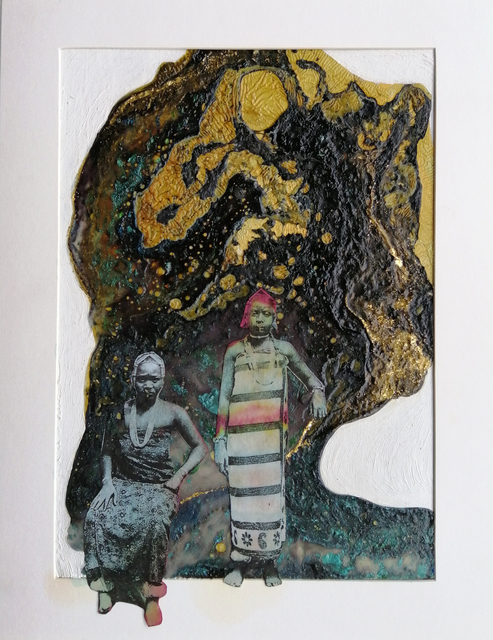 Letaru Dralega, My Sister's Keepers, 2019
Another artist in this group who's fascinated by history is Letaru Dralega who begins her process with the powerful phrase,"I am because they were". The sentence evokes destiny and vulnerability and further expresses the issue of we not having a hand in our being or what we are today which was determined by those before us. The statement also calls for us who are living today to go back behind and trace our roots. Thus, Letaru cuts out historical images from pre-colonial and colonial Africa which she pastes atop this marbled background of floating oil paint, spray paint and ink on water. The marbled background ends up looking like stone or a galaxy. For me, it suggests the resourcefulness of the Africa our ancestors had. It could be what the artist is alluding to as there is also traces of gold color in the marbled background. It feels like Letaru's work takes on a broad concept, one of which may include the mass traumas that those before us on this land had to go through for us to be here today.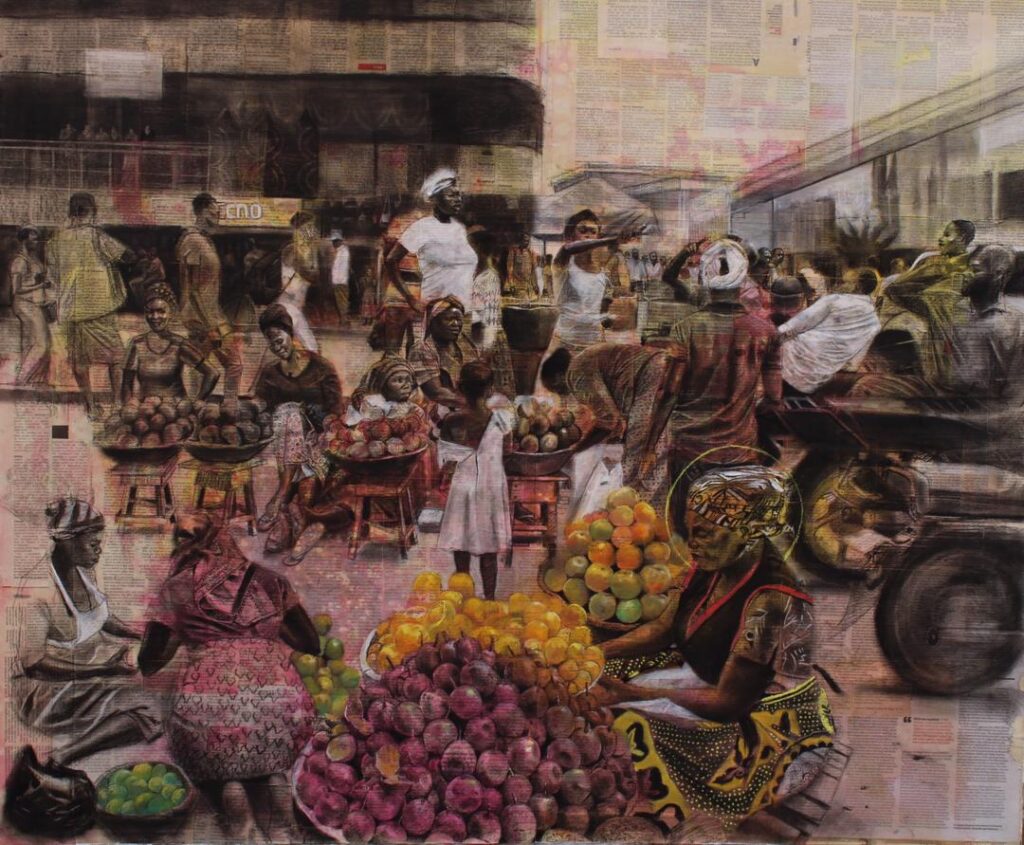 Ocom Adonias, Saint ki bela owa new taxi park, 2020
Ocom Adonias is interested in the realistic presentation of the lives of those around him and he captures this in his drawings of charcoal and wash which are on top of newspaper cut outs. Ocom focuses his lens on people in our everyday life who are often not seen as worth celebrating. He puts them at centre stage or at the forefront in his drawings and canonizes them. I thought he would be the pope but he stressed that he's the new reporter shining a light on those who are always used and thrown away like newspapers which we read and dump in the bin. Adonias' strength lies in the mastery of the human figure which is evident in his sketchy figures. His prowess also lies in his ability to capture outdoor everyday scenery in his neighborhood, in the city which makes for a good and simple story or archive for the future.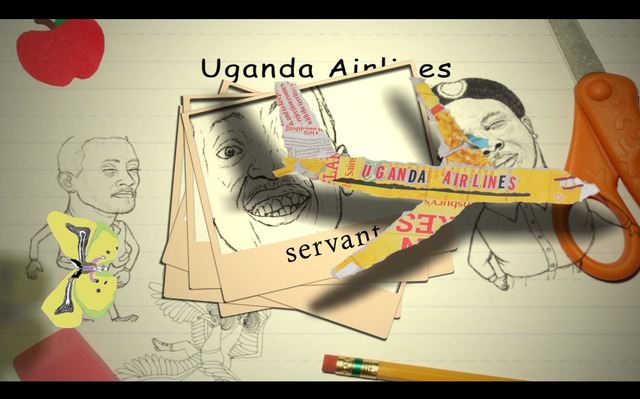 Eria 'Sane' Nsubuga, Am not your servant, 2019
Eria 'Sane' Nsubuga is my favorite artist in this lot and not because he's from the older generation and I'm throwing sympathy praise but because his work says it. Eria's work scores highly in conceptual maturity, content and clarity of the message. His work is largely political and it delivers with that 'in your face' quality, something that I enjoy and also use in my work. With a metaphoric language and a good dose of wit, he maneuvers around the factors shaping the bordered world like the inventions of race and nationhood. For this exhibition, Eria showed two video collages titled Uganda Airlines: Am not your servant and Uganda Airlines: Citizens of Everywhere, Citizens of Nowhere which he says are part of a bigger project. In the videos, he puts together rotoscopes of paper collage, phone videos and film using various graphic and imaging computer applications. My heart pumped with excitement the moment I heard Museveni's voice at the beginning of Am Not Your Servant because I sensed that the work would be critical of the aristocratic leader he has become. And Eria doesn't disappoint as he bluntly critics the affairs of post-colonial Uganda basing his provocation on a statement that was once said by the current president. He once came out and told his countrymen how he is not employed by anyone and he is a freedom fighter trying to fulfill his beliefs. In the two videos, Uganda Airlines might represent the state and the fact that he shoots some scenes in a yard with aeroplane scrap alludes to the state of affairs of Uganda which has been mismanaged by the incumbent regime. He serves us with the good old satire and political situationism that may recall the work of John Heartfield and William Kentridge who he confesses to me that are big inspirations to him. He further loads the works with haunting visual and audio imagery of Darwinism and evolution, white nationalism and imperialism. There is a lot in these maximalist pieces of work that I would probably need a book to break down.
Image courtesy: Afriart gallery
Matt Kayem is a contemporary artist, art critic and writer living and working in Kampala, Uganda. As an art writer, he's usually interested in aesthetics versus concept and the commercialization of African art versus western art. He can be reached via email, mattkayem@gmail.com.