Collins Obijiaku
Making art is where I go when I want to feel good.
About:
Born 1995 in Kaduna, Nigeria, Lives and works in Suleja. He is a self-taught artist.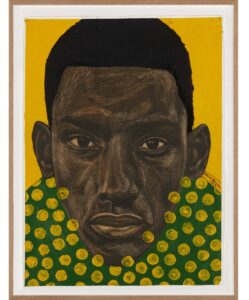 Untitled, 2020
Collins Obijiaku is a young, up-and-coming artist from Kaduna, Nigeria. His work is a celebration of blackness through elegantly constructed portraits. Gazing at his paintings is to be transported into a world where black people exist for themselves, innately elegant and unfazed by the world and its never-ending problems. There is an affective connection between him and his subjects, which is made apparent by the graceful way he extends their complex personalities onto the canvas. He primarily paints his loved ones, and, at times, striking strangers he encounters in the city, perhaps as a way of inscribing them into history. Obijiaku has a notable relationship with lines; his brushstrokes are seemingly cartographic, taking the viewer into a world of wonder and magic. He also embraces digital space and wants his melanated subjects to exist beyond the present, in the boundlessness of the internet.
Untitled
"I've always liked to draw and paint. I started out with animation, cartoons and the like. In 2016, I noticed that I was improving, and I started to look at artworks [online]. This inspired me to pursue a career in art. I feel free doing it, and it brings me relief. Making art is where I go when I want to feel good.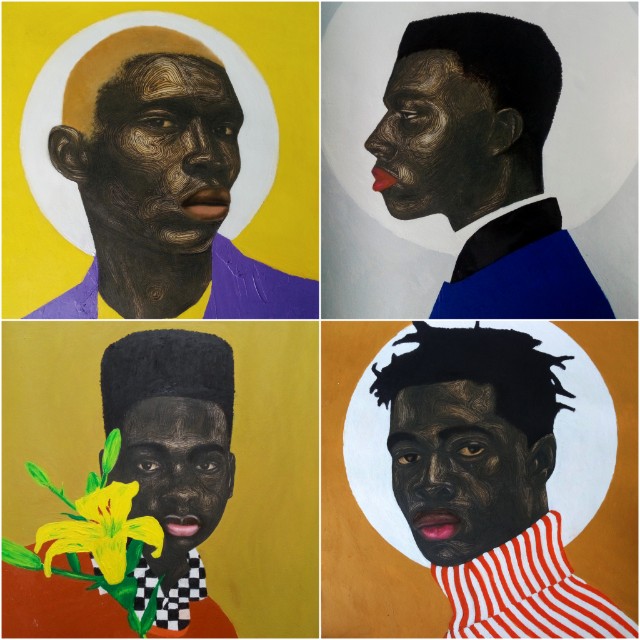 I started using oil paints in 2019. I was into hyperrealism at the time, but I wasn't feeling very free doing it. Here in Nigeria, a lot of young artists are visually drawn to hyperrealism. I think it's just eye-catching, but it involves too much rules. There is a certain way you have to do things, there is this, and you have to do that. I didn't always want to follow the rules. I wanted to explore. So I started mixing different mediums to see if I could come up with something different, something that could actually capture what I wanted to capture: black skin. Something that could bring out a lot of blackness in my works. I started exploring, and I came up with what I have now."
Text compiled by Tawanda Appiah