Recently published: The Brown Beatnik Tomes, poems and art.
 Crowd Control, 2013.
About The Brown Beatnik Tomes:
"Danny has captured a world that easily could have been lost forever, a world of conked hair, pointy toed boots, nickel bags, baby blue suits and red light parties…A world where it wouldn't be strange to dream you saw, "Bob Dylan pay homage to an effigy of Leroi Jones on burning Newark streets rattling a necklace of harmonicas at passengers on slave ships roaring streets of history buck dancing for loose change selling lines of tomes for pittance sake." -Russell Simmons
Running the Guantlet, 2013.
In the tradition of Romare Bearden and Langston Hughes, KMW studio publishing is proud to present The Brown Beatnik Tomes, a unique spiral bound collection of strikingly powerful prose and neo-African Abstract Expressionist paintings from artist and poet Danny Simmons.
Cover of his just published book.
The Brown Beatnik Tomes is a harmonious blend of Simmons' voice and vision. His words are gritty and startlingly real, juxtaposed with the vivid colors of his paintings, creating a world that is completely fresh and original, yet reminiscent of an era past.
This is Simmons' third volume of art and poetry, his most wide reaching and multi-disciplined project to date.
Starry Night, 2013.
for a pistol
a poet is a pistol with an extended clip bustin off rounds in2 da head of america and brains ooze on streets where blk children once played that are now dog runs for bleeding rich history and heresy. amiri hollow point baraka will bust a cap in ur ass on nostrand and fulton and make u get religion and revolution up in here…in a kangol hat lined w the newspaper of prose that fit the dome of negroes in old coogi sweaters that biggie wore out…amiri would wear that ass out like and angry uncle after a 12 step meeting..preach baraka preach in newark in harlem in jamaica in watts inside of the loose shoes that is america…preach amiri and teach that to live is to sweat em for what they done did
dedicated to amiri baraka
Trellis of Whispers, 2013.
Recent exhibition:
The Spirit Called: Danny Simmons in Jackson, Mississippi
By Kimberly Jacobs  in BURNAWAY on April 10, 2014
"I Dreamed My People Were Calling but I Couldn't Find My Way Home" at Jackson State University's Gallery1 is a brief survey of paintings and works on paper by Danny Simmons, Jr. And by brief survey I mean only 10 of his works were chosen from his extensive repertoire that has been evolving for over 20 years.
Simmons's studio is nestled on the top floor of his three-story Brooklyn home, which also houses his museum-worthy collection of African art and artifacts. His abstract painting style is deeply inspired by his collection, so it was only natural that the two be exhibited side by side, ensuring that the poetic dialogue between them continues.
The exhibition's title is borrowed from Simmons's book of poetry published in 2007.  As an artist and co-creator, along with his brother Russell Simmons, of Def Poetry Jam, Danny beautifully intermingles his two creative passions on the canvas. Simmons's work embraces an atavistic African spiritual consciousness from which he creates generous wisps of ghostlike brush strokes and hieroglyphic patterns. Embodying the Surrealist qualities of Joan Miró and Wifredo Lam, Simmons also captures the edgy New York vibe of Jean-Michel Basquiat. Beyond Heaven's Gate (2008) pulls from all these artists with its multilayered field of color bursting from "beyond." His whimsical yet strong pattern of color stretches across the canvas, reaching toward the outer edges.
Untitled.
Simmons's art moves harmoniously between poetry and painting, and among the past, present, and future. "I Dreamed My People Were Calling…" includes a group of his most recent work incorporating pieces of fabric and African textiles. How Many in the Passing and Through the Ages (both 2014) allude to the appropriation of African craftsmanship into mainstream society. He has also delved into the realm of digital painting; Whoosh (2013) shows his understanding of layers, which indeed reflects Simmons's many facets.
His poem, "The Jigaboo Waltz," reveals his own ambiguity in the opening stanza:
I was then/as now
a challenge
mostly to myself
an artist
or a poet
the means/needing to
Fit my ending as it
laid before me
creeping
up my back
like a
haunting I'm called
"I Dreamed My People Were Calling…" was chosen for Gallery1 to be a "homecoming" of sorts—a reference to the West African culture that is rooted in Southern history. It is Simmons's first show in Mississippi, and it has certainly conjured an ample dose of artistic magic.
"I Dreamed My People Were Calling but I Couldn't Find My Way Home" can be seen at Jackson State University's Gallery1 in Jackson, Mississippi, through May 3, 2014.
Kimberly D. Jacobs is a curator, art critic, and gallery director from Jackson, Mississippi. She's currently living in St. Louis during her tenure as the Romare Bearden Fellow at the Saint Louis Art Museum.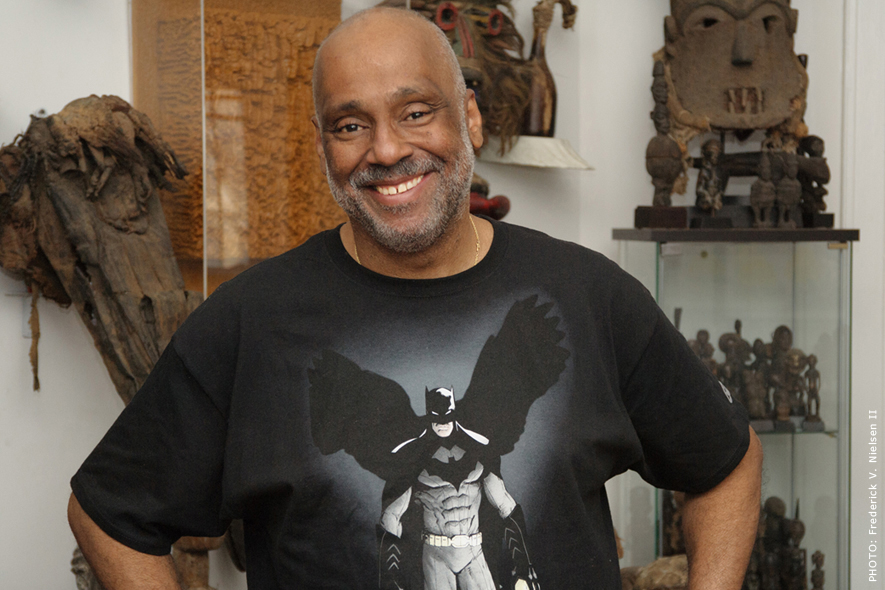 Photo by FV Nielsen.
About the Artist/Author:
Danny Simmons is a contemporary abstract-expressionist artist, poet and author from Queens, NY. His art work can be seen all over the world in such prominent establishments as Chase Manhattan Bank, The Smithsonian, the United Nations, Deutsche Bank collection and more.
Among the most impressive artists of his day, The New York Times says that he "injects freshness" into his abstracts, and that they are "meticulously rendered and decoratively impressive."
Simmons is also an author of six books of art, poetry and fiction. He conceived of and co-produced the hit HBO series Def Poetry Jam, which made such an impact that Def Poetry is now offered as an elective at the University of Wisconsin, and won Simmons a Tony Award for the Broadway version of the show.
Co-founder – along with his siblings, music mogul Russell, and hip hop legend Joseph Simmons aka "Rev Run" – and president of the Rush Arts Gallery, Simmons is also founder and VP of the Rush Philanthropic Arts Foundation, a 501(c)3 organization "dedicated to providing disadvantaged urban youth with significant arts exposure and access to the arts," as well as a former board member of the Brooklyn Museum, the Brooklyn Public Library, the New York Foundation for the Arts, and the National Conference of Artists.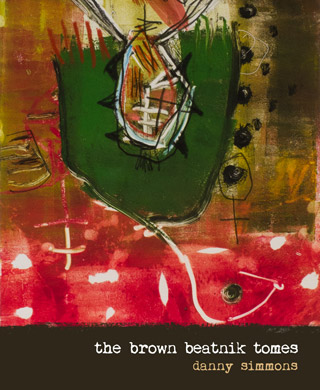 Danny Simmons holds a Bachelor's degree in social work from New York University, a Masters in public finance from Long Island University, and is the recipient of an honorary PhD from Long Island University. Simmons sits on the Boards of Long Island University, Brooklyn Academy of Music, Brooklyn Bridge Park National Conference of Artists, Hampton University Museum and remains an adviser to the Brooklyn Museum.
He currently lives in Brooklyn, NY.