David Boyer
About:
David Boyer produces unique Voodoo tapestry in mixed media, often with recuperated media. He started his career making traditional Voodoo tapestry, out of colorful sequins. Today, Boyer's tapestry are one of a kind: they are often three dimensional, given his use of certain material such as dolls and forks in his tapestry, and are often very somber in color, and industrial looking, given his use of material such as computer motherboards, antiquated material, and buttons.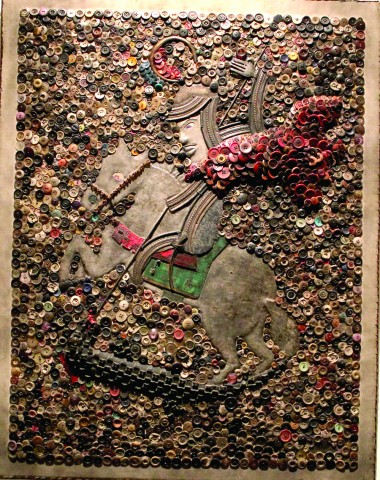 Le Nouvelist, 2016.
"David Boyer was born in Port Au Prince in 1976. His natural curiosity for art began to develop at a young age. When he was 12 years old, he started to work in the workshop of Tibout, making sequenced voodoo flags. It was there he mastered sequence art, and began to help other artists develop their techniques. Boyer began to work closely with Pierrot Barrat, in the Iron Market, along with other artists and artisans. In 1995, he joined forces with Lherisson Dubreus and both began to explore their own individual creative inspiration setting them apart from the rest of the artists they knew. Soon after they co-founded the Kongo Lawouze workshop. In 2006, David Boyer began exploring a new form of art, which was a marriage of all the previous experiences he had acquired including his newfound passion for recuperation art. David Boyer currently lives and works in Haiti." Prodevarts.org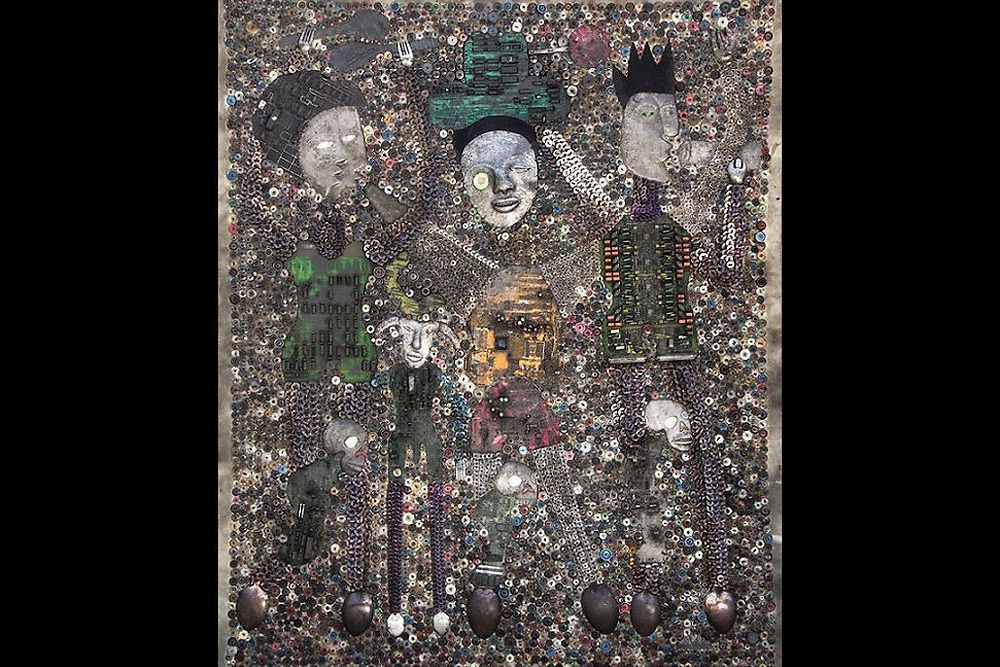 Rara Lakay, 2014.
Recuperation art is all the rage presently in Haiti, perhaps because of the decadent state of capital city Port au Prince. It is has been the case since the 1990's. The best known school of recuperated art today outside of Haiti is Atis Rezistans, though other artists such as David Boyer are very prolific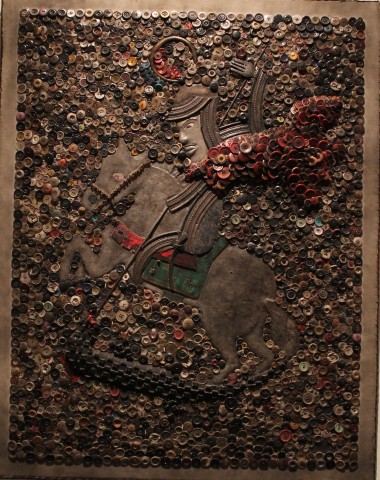 There is an amount of shock that one feels when faced with David Boyer's recuperation tapestry if accustomed to Voodoo tapestry, a traditionally very elegant and lively art. It is as if dark has replaced liveliness, and rust has replaced the texture of gold sequins. The faces of the lwa, or deities, in his tapestry are almost always in metal, which give them a force of attraction that is higher than in traditional Voodoo tapestry. His tapestry of bossou, a lwa with a bull's face, may his most impressive. At times, one feels like Boyer is using everyday materials such as buttons and forks to comment on the everyday life of the Haitian proletariat, surrounded much more by old dolls than by the shiny colors of traditional Voodoo tapestry.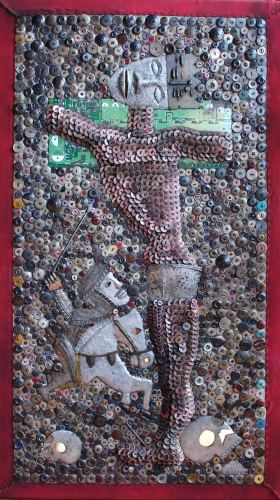 What's very reassuring is that Boyer's tapestry is that of an artist, or an individual who decided to produce counter-current versions of Voodoo tapestry, a very old tradition. (text Aldolf Alzuphar)