DAWN WILLIAMS BOYD
Ladies Night: Waitress, 2013
About:
I was born in Neptune, NJ; I was reared in Atlanta, GA.
Six decades after clothing my dolls with the remnants on my mother's sewing room floor, I create 'cloth paintings' with fabrics garnered from myriad sources, to tell the stories of my times, my country and my people. My artwork reflects my interest in American history as it affects and is affected by its African American citizens, particularly as seen through the eyes of women and children.
My work is occasionally humorous and warm hearted. It can bring back memories of more peaceful, happier times. More often it is controversial, forceful, bitter and heart wrenching. My artwork portrays the history and culture of this country from the perspective of the 'other' – the oppressed, the abused and the disenfranchised. My most recent work considers how U.S. politicos are influencing the human condition well beyond our country's physical borders.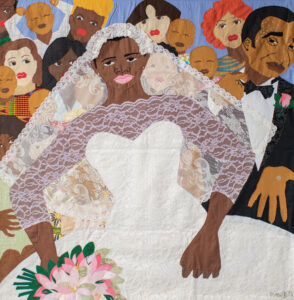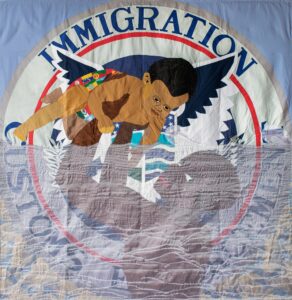 Ladies Night: Bar Grill, 2009/Forsaking All Others, 2015/The Trump Era: Immigration, 2019
My 'cloth paintings' are large scale, vividly colored, richly textured and celebrate the human form. I use appliqué and piecing methods to sew scraps of fabric together. Machine stitches, hand embroidery, beads, sequins, cowrie shells, laces, silk ribbons, buttons, and occasionally, acrylic paints are added to embellish the surfaces. Each piece is drawn repeatedly over a seven to eight step process with implements ranging from a #2 pencil to a steel needle holding strands of embroidery floss.
Through cutting, patching, surface enhancement and quilting, bits and pieces of fabric are transformed into modern visual storytelling.