Devin N Morris
About:
I am a mixed media artist with a focus in physical and digital collaging. Both physical and digital collage have been incorporated in my latest project, 3 Dot Zine. For many years I honed my aesthetic abilities in the field of fashion specializing in buying, merchandising, editorial styling, and feature writing. After being encouraged by friends to take my collage work more seriously I began my artistic career in collage and video and started 3 Dot Zine.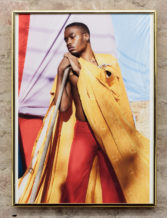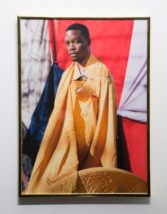 Rahm 1, 2017/ Rahm 2, 2017.
My works are comprised of varying video, audio, visual and physical elements, the physical being the zine. I record video sequences of benign interactions between myself and objects while layering snippets of recorded conversations as the audio for the video in hopes of portraying the random nature of thinking and how it rarely relates to your present circumstance. In a sense, showing disconnection to reality. My collage works mainly consists of mixed media on paper and serve as observations on society, culture, places and consumerism. My works are best understood when viewed with all audio, physical and visual elements present within the same space creating one distracted experience. My works deals with distractions and understanding how distractions drive behaviors when communicating.
I am from Baltimore and I live in Brooklyn NY. I am heavily influenced by both locales and I think the cultures of each overlap often in my images and writings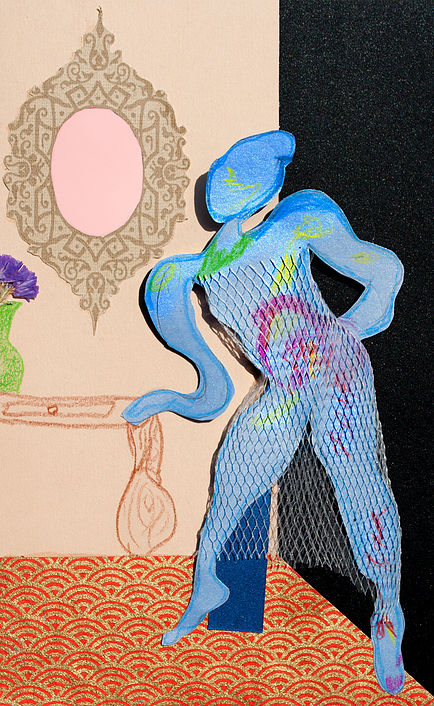 (Untitled), 2017
Morris uses various mediums to subvert value systems found in American life. In particular, he abstractly depicts the intersections of consumerism, queer identity, family ties, and urban geographies found in the American Black experience. These works are filled with a children's book-like joy and look to break commercial, sexual, and imaginary desires down to facets of visual stimulations that question the validity of our reality.
As an extension of this exhibition, Morris will curate a zine library with titles by various artists and zine makers. Eighteen collaged cover variations of Morris' book, "Baltimore Boy," will be exhibited, with copies available for browsing and purchase in the library.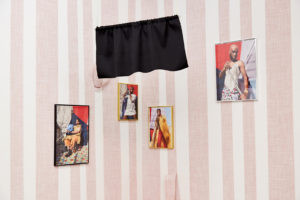 In a dignified fashion, 2017, instaalation view
Devin N. Morris is a Baltimore born, Brooklyn based artist who is interested in abstracting American life and subverting traditional value systems through the exploration of racial and sexual identity in mixed media paintings, photographs, writings and video. His works prioritize displays of personal innocence and acts of kindness within surreal landscapes and elaborate draped environments that reimagine the social boundaries imposed on male interactions, platonic and otherwise. The use of gestural kindnesses between real and imagined characters are inspired by his various experiences growing as a black boy in Baltimore, MD and his later experiences navigating the world as a black queer man. Memory subconsciously roots itself in the use of familiar household materials & fabrics, while symbolically he arranges it. Looking to buoy his new realities in a permanent real space, Morris posits his reimagined societies as a prehistory to futures that are impossible to imagine.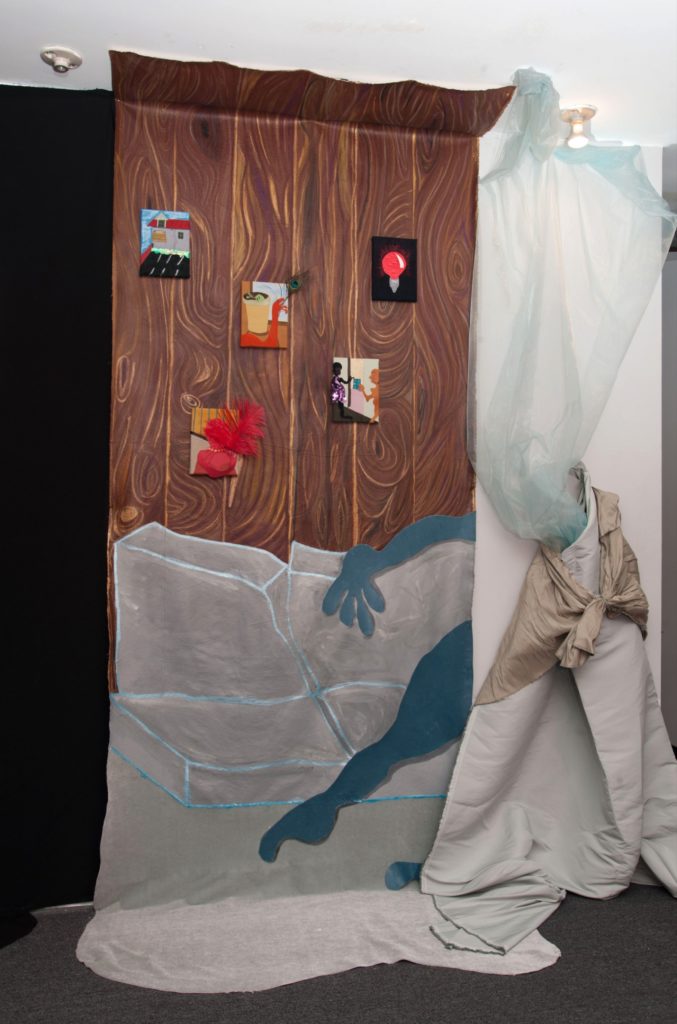 Cedar Lined Celar, 2017, installation view.
Morris is also the editor of the great collaborative effort 3 Dot Zine, which is an annual publication that celebrates the futurity of minorities, in addition to serving as a forum for invited artists to center and elaborate on marginalized concerns.