Diedrick Brackens
Bravest Sons, 2018

I discovered weaving before I found content. I fell in love with the medium and the attendant processes in college. As I learned more about the craft and its historical significance, I realized it was a way to talk about the issues I cared about, relative to movements of enslaved people, the shaping of American culture through African and European aesthetics, and the production of cotton in the country among other things.(quote from interview in Artland, 2018)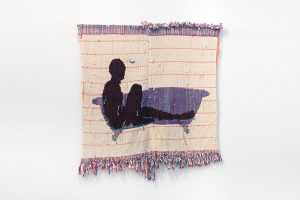 How to return, 2017.
The Studio Museum in Harlem announced at its fall gala this evening that the Joyce Alexandar Wein Artist Prize has been awarded to Los Angeles–based artist Diedrick Brackens. The award comes with $50,000 in unrestricted funds.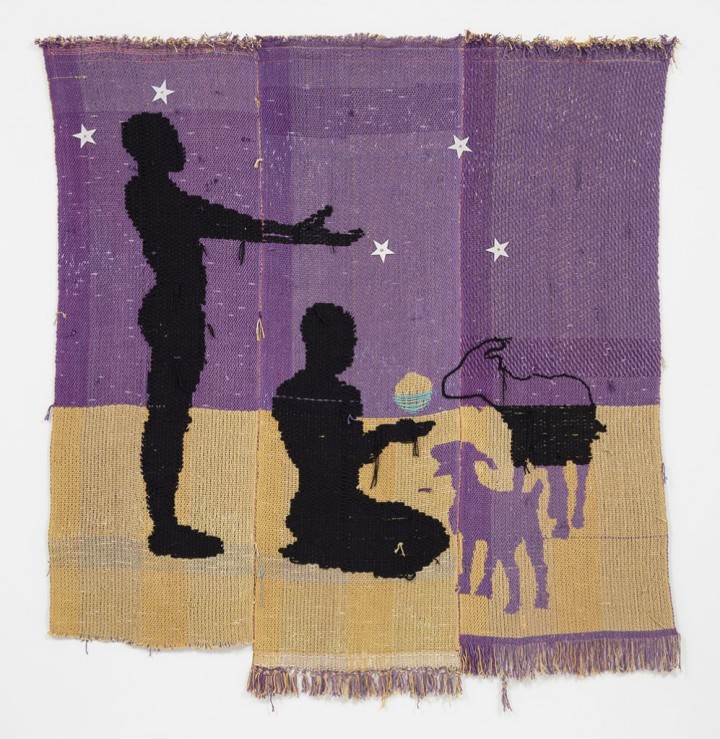 The cup is a cloud, 2018
Brackens is best known for his tapestries and textile sculptures that range from pieces with abstracted images to narrative scenes that depict black figures in silhouettes, all accompanied with lyrical titles, such as not every passage/position is comfortable and wading still (bend, bow, pull). Many of the tapestries, including those in his ongoing "bandage" series, are constructed in multiple pieces that are stitched together, adding a sense of fracture to the overall tone of the works.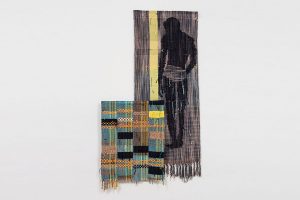 Blue under the night, 2017
Brackens's art explores the intersections of cultural histories and traumas in the U.S., particularly as they relate to various weaving traditions and his own position as a queer man of color taking up a craft traditionally regarded as "women's work." His work was included in the recent "Made in LA: 2018" biennial at the Hammer Museum in Los Angeles, and two of his pieces are part of the recent bequest by Peggy Cooper Cafritz to the Studio Museum.(from Aretnews, October2018)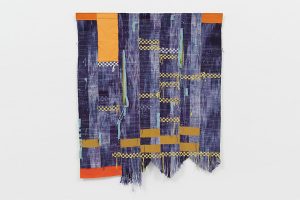 Sleep don't come easy, 2016
About the artist
Diedrick Brackens (born 1989, Mexia, Texas) received a BFA from University of North Texas (2011) and an MFA in textiles from California College of the Arts, San Francisco (2014). His work has been shown in solo exhibitions at Ulrich Museum of Art, Wichita (2017); Steve Turner Gallery, Los Angeles (2016); and Johansson Projects, Oakland (2015). Recent group exhibitions include Made in LA, Hammer Museum, Los Angeles (2018); Jewish Contemporary Art Museum, San Francisco (2017); Dimensions Variable, Miami (2017); Thomas Erben Gallery, New York (2017) and Denny Gallery, New York (2017). Sunday will be Brackens' first exhibition following his inclusion in "Made in LA," the Hammer Museum's biennial look at selected artists from Los Angeles. He will have a solo exhibition at Steve Turner in September 2019. He lives and works in Los Angeles.