Diego Rodriguez-Warner: Honestly Lying
February 2, 2018–May 13, 2018, Museum of Contemporary Art Denver US
Boom, 2013.
About:
MCA Denver is excited to announce the first solo museum presentation of work by painter Diego Rodriguez-Warner. The exhibition focuses on the artist's production from the past five years, showcasing the evolution of his singular style, including four new paintings.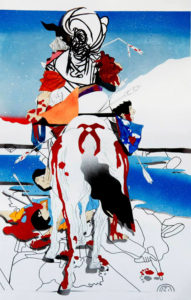 The River, 2013.
Trained as a printmaker in Havana, Cuba and at the Rhode Island School of Design, Rodriguez-Warner has developed a manner of painting that is informed by woodblock printing and characterized by tromp l'oeil, collage, and art historical references. He enhances the tromp l'oeil by carving into and staining the plywood panels on which he works. Painted shadows and subtly carved ones confuse the eye. This sensation—that of the possibility of depth—is amplified by the layering of forms, figures, and patterns that twist around, melt into, and overlap one another. Some of these fragments, those cribbed from works by ukiyo-e master Yoshitoshi, Henri Matisse, and George Grosz, among others, appear familiar, while others elude identification, even as simple shapes.
Steel String of Man With harmonica, 2013.
The exhibition aims to help viewers disentangle these complex images and understand the illusionistic devices Rodriguez-Warner employs in composing them. To this end, smaller works on paper or plywood, as well as maquettes, accompany the larger paintings. In these studies, viewers can identify discrete forms that appear repeatedly throughout the exhibition.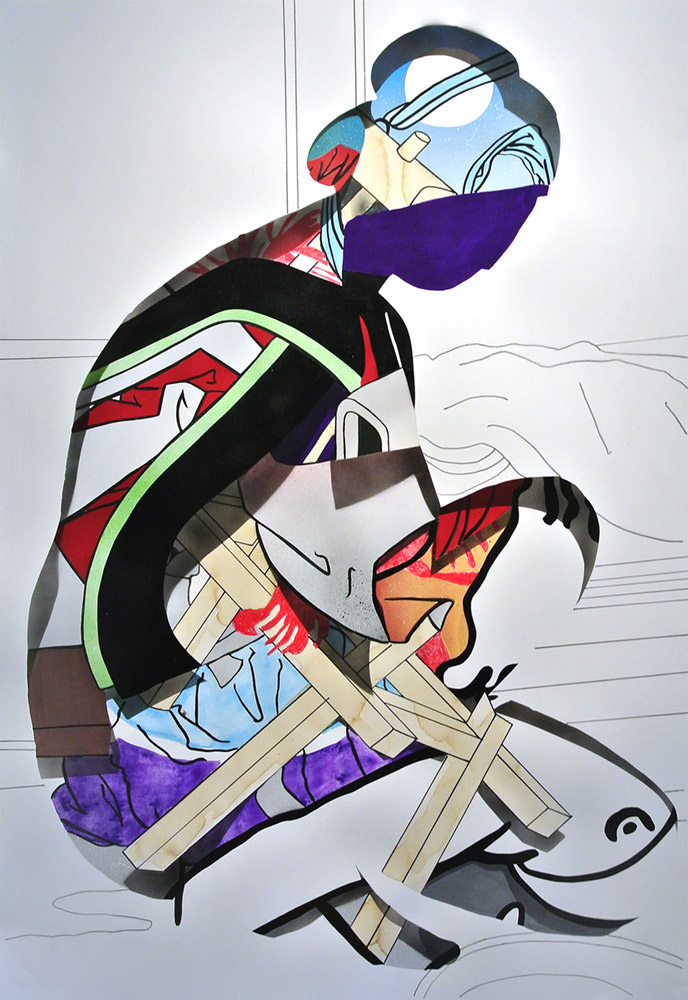 Bathing Gypsy, 2013.
Diego Rodriguez-Warner was born in Managua, Nicaragua in 1986 and moved to Denver, Colorado in 1990. He holds fine arts degrees from Hampshire College and the Rhode Island School of Design, and he has studied under the Cuban Minister of Fine Arts, Lesbia Dumois, in Havana. At RISD, he was a recipient of the Toby Devan Lewis Fellowship. His work has been shown around the US, in Cuba, and in Germany.
The exhibition is curated by
Zoe Larkins, Assistant Curator at MCA Denver