Dominic Chambers. Born 1993, St. Louis, MO, Lives and works in New Haven, CT
Dark Skin of Summer Shade, 2021
About:
Chambers received BFA from the Milwaukee Institute of Art and Design in 2016 and is a 2019 MFA graduate from the Yale University School of Art. The artist has exhibited his work in exhibitions in the US and Europe including a solo show at August Wilson African American Cultural Center in Pittsburgh, PA as well as group shows Abstraction of Black Citizenship: Art from St. Louis curated by Jasmine Jamillah Mahmoud at Seattle University; Black Voices / Black Microcosm curated by Destinee Ross at CFHILL Stockholm, Sweden; Painting Is Its Own Country curated by Dexter Wimberly for the Harvey B. Gantt Center for African-American Arts + Culture in Charlotte, NC. He has participated in a number of residencies, including the Yale Norfolk summer residency and the New York Studio Residency Program in Brooklyn, NY.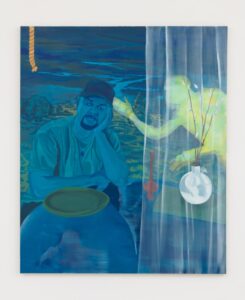 After Albers (Max), 2020/Blue Daydream, 2021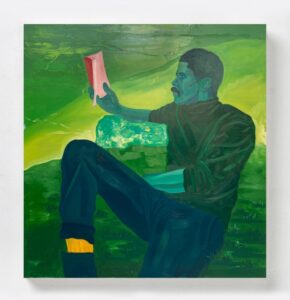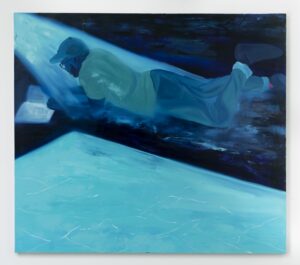 Untitled, 2020/Tajh by the Waters, 2019
The artist's work is founded upon the relationship between reality and fantasy. At this illusory boundary, Dominic Chambers negotiates ideas of magical realism by presenting black figures as they delve into literature and contemplation within imagined landscapes. These subtle, leisurely moments not only celebrate each subject's visionary power but further negate pervasive and toxic clichés, instead focusing on black talent, creativity and mysticism.